Early career African researchers who have completed their doctoral studies during the preceding seven years are invited to apply for the Iso Lomso fellowship. For the 2018 call up to seven candidates will be awarded a three-year fellowship.
Iso Lomso, meaning "the Eye of Tomorrow" in isiXhosa, was launched in 2016 and aims to boost the careers of some of the brightest young minds in African academia.
Fellows will spend various periods of residency at the STIAS Wallenberg Research Centre in Stellenbosch to pursue their research projects. They will also receive support to attend international conferences, convene workshops, and visit sister institutes for advanced study elsewhere in the world.
The first and second cohorts of Iso Lomso fellows commenced their fellowships during 2017 and 2018, respectively. An update on their projects are available on the Iso Lomso application page.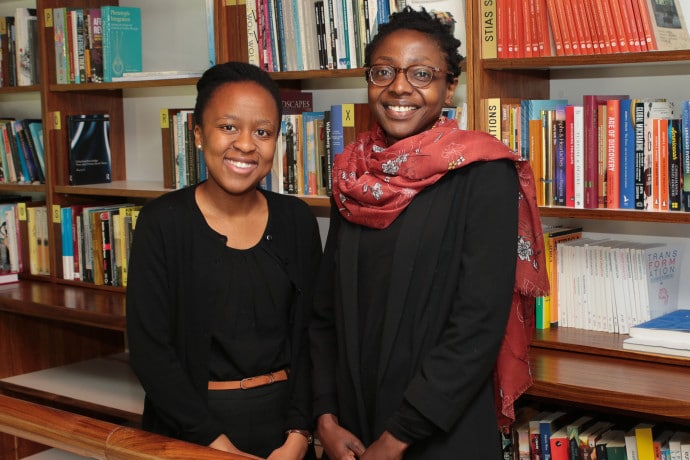 In the words of Malebogo Ngoepe of the University of Cape Town after her first residency at STIAS:
One of the main motivations for applying for an Iso Lomso fellowship was the desire to be immersed in a multidisciplinary community that was continually reflecting on new ways of engaging with knowledge. My expectations were well exceeded and I have gained far more than I had hoped for.
Iso Lomso recognises that for many younger academics the pressures of teaching, administration and contract work mean they receive little support and incentive to develop their research strengths, as was recently highlighted in the GloSYS Africa survey. Iso Lomso addresses this by providing sustained research support for the duration of the three year fellowship.It fills the gap that exists between completion of a Ph.D. and becoming an established scholar. While in residence, Iso Lomso fellows will find themselves in the company of leading scholars from around the world and from different disciplines. Informal research guidance from other fellows will form an integral part of life at STIAS.
A unique element of Iso Lomso fellowships is that STIAS will offer lecturer replacement support to the home institutions of fellows during times of residency at STIAS. It also provides for a child care subsidy in the case of  fellows who are accompanied by young children during periods of residence at STIAS.
The call for applications is now open and can be found at stias.ac.za/iso-lomso
Applications for the current call close on 20 October 2018. For enquiries, contact the STIAS Programme Manager, Dr Christoff Pauw at [email protected], tel. +27 21 808 9331