"Corruption cannot be fully understood as a single issue. It's part of the whole. Many African states find themselves fighting something they can't fully define which is larger than themselves and with which the system collaborates."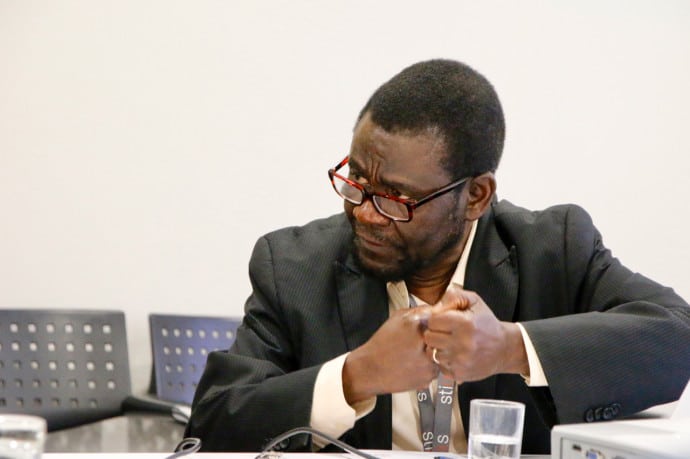 "Despite many positive advances, corruption persists in Africa. It is not a natural phenomenon and cannot be justified on intellectual, social or political grounds. However, it is as an essential part of the system and of the core value system in many countries. We have to understand the systemic roots as well as the impact of history – history is a compass that tells us where we are."
This is the view of STIAS fellow Tukumbi Lumumba-Kasongo of the Departments of Political Science and International Studies at Wells College, who presented a seminar on his book project which is a comparative study examining democratic governance, corruption and corruption-control mechanisms in Africa. He hopes to achieve this via a historical-structuralist approach and systematic analysis.
"Democratic governance, corruption and corruption-control mechanisms are expressions that have become prominent in debates since the early 1990s," he said. "In Africa, these expressions are at the heart of the debates and dynamics of political decolonisation movements. I consider them to be among the premier big ideas and concepts of our era. As with all big ideas and concepts, their understanding is not intellectually simplistic, as their epistemological foundation and history tend to transcend any specific localism and its dynamics. Thus, a comparative study is necessary to help contextualise historically, sociologically, politically and philosophically the meanings of these concepts and their policy implications locally and regionally."
Lumumba-Kasongo will compare case studies from the Democratic Republic of Congo (DRC), Chad, Nigeria and South Africa, and possibly also Algeria and Mozambique.
Confusing definitions
He pointed out that a huge challenge lies in the fact that there is no universal definition and understanding of what corruption is and what it ought to be.
"Definitions of corruption vary," he said. "Traditional reciprocity, a feature of many societies, makes it difficult to define corruption – distinguishing between a gift and a bribe is difficult."
"Generally corruption is seen as bribery, fraud, kickbacks and collusion, and misuse and abuse of power for private gain. It is usually defined in terms of intention – someone must derive benefit from corruption."
"But," he added, "all of this must be seen in the context of the political economy. We need to understand what corruption means for the poor versus the rich in a society."
He also pointed out that measuring corruption and its effects is difficult to do with mathematical precision. Many international organisations that present annual ratings – such as Transparency International – use measures and ratings based on opinion surveys.
"The questionnaires require a certain level of literacy, therefore only the educated participate excluding those who are the most affected by corruption."
"There is also no standard model of what constitutes anti-corruption activities," he added. "These should include investigation, enforcement, prevention, education and awareness."
What is very clear though is that Africa currently loses billions annually in so-called 'illicit financial flows' which effectively negates much of the development assistance received by the continent.
"Corruption seriously affects the dynamics of the African political economy and the functioning of African nation-states so we have to question why it persists," said Lumumba-Kasongo.
"Actions to eradicate corruption, to date, have been too insipid and timid."
However, he believes change is possible. "From the 1990s there has been an emergence of multi-party democracy in Africa – many liberal democracies have taken root, some have consolidated, there have been some reversals but, overall, I remain optimistic."
"Many African states are transforming themselves," he continued. "Judicial activism is rising and coming together with the rise in social movements. There is a willingness to change."
He pointed to the Lagos Plan of Action, the Abuja Treaty, the African Peer Review Mechanism as well as the adoption of a zero-tolerance approach by the African Development Bank as important steps forward along with recent regional conferences on corruption.
"We have a lot to learn from what African nation-states are saying and doing," he said.
Learning from case studies
Focusing on his case study of the DRC he pointed out that "the DRC is one of the most consistently corrupt nation-states in the world according to all the organisations that measure corruption in the DRC. This is reflected in every aspect of life. However, it has been accepted and agreed upon that the country is corrupt which is an important step towards fighting it and the current president Joseph Kabila Kabange has officially declared he will combat corruption."
Lumumba-Kasongo pointed to the history of the DRC as the foundation of its current predicament. "The colonisation of the DRC was unique," he said. "The country was basically the personal domain of King Leopold II of Belgium. He was not accountable to anyone. This cultural foundation has not significantly changed within the model of nation-state adopted."
"Under the leadership of Joseph-Désiré Mobutu – the second republic – there was massive pillage of private and public goods, political violence, resource expropriation, military rule, elimination of opposition and the marginalisation of girls and women. This state of affairs continued until the transitional political period (2003-2006)."
"Indeed, the DRC is a country rich in natural resources but its people remain poor. Corruption is endemic – it is both systematic and cultural."
"Since 2006 the country has accelerated its campaign of zero tolerance for corruption. Kabila has also facilitated the adoption of SADC provisions and African Union conventions on corruption."
But Lumumba-Kasongo pointed out that many of the actions have been about treating the symptoms rather than the underlying condition. For example, local magistrates have been investigated and many fired. "This is too narrow a focus," he said. "Firing officials is treating the symptoms not the cause."
"There is a disconnect," he added. "Laws are needed to actually challenge corruption. The constitution itself doesn't define corruption – it's only mentioned once and in the context of leaders and high-level violations – mostly related to treason and the behaviour of the president."
"The level of poverty in a country like the DRC means that most people are focused on surviving and eating their next meal. They don't necessarily make the connection between the election and the resulting public policy."
"Poverty also means it's difficult to understand where kinship ends. It's also difficult to know what is due to tradition and what is a response to the political economy."
"There is a need to deepen understanding of the consequences of corruption especially on the poorest of the poor. Corruption must be understood as a threat to democracy."
Lumumba-Kasongo believes there is a need for professional ethics in the public sector, a new code of behaviour, civic education on ethics and human rights in African countries.
"Africa needs strong democratic institutions to strengthen accountability, support individual rights and public participation, independence of the legislature and judiciary, and real development programmes," he added. "Corruption must be addressed both philosophically and structurally."
"Anti-corruption needs to be part of the people's debates in a liberal democratic system – it can't just be elites debating amongst themselves. People don't understand the issues because there is no debate. Society has to respond to corruption as a social development issue.
"Social justice is key. Anti-corruption efforts must address social justice."
Michelle Galloway: Part-time media officer at STIAS
Photograph: Christoff Pauw