Berhanu Abegaz, resident fellow at STIAS in 2014, 2017 and 2018, has accepted a nomination as Permanent Visiting Fellow of STIAS; he joins the select group of fellows who "have an open invitation to work at STIAS whenever they can."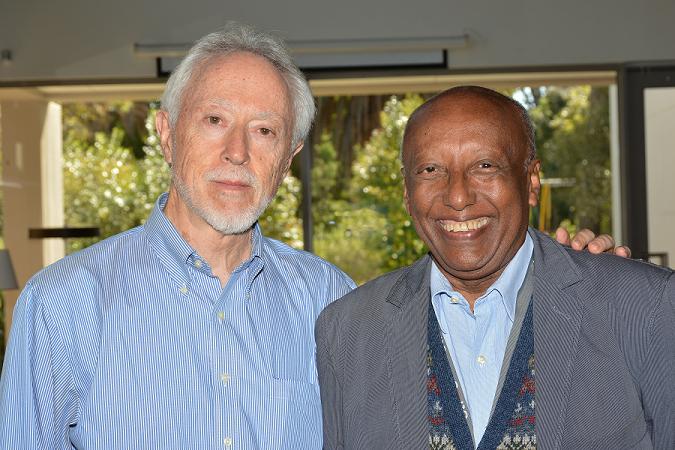 Berhanu Abegaz currently holds the position of Distinguished Visiting Professor in the University of Johannesburg. He is the immediate past Executive Director of the African Academy of Sciences (AAS), having served in this capacity during 2011-2017.
Abegaz was born in Ethiopia. He completed his undergraduate education in chemistry from Haile Selassie University, Addis Ababa, Ethiopia and recived his Ph.D. from the University of Vermont.  He did postdoctoral studies at the University of Ibadan (Nigeria), Florida State University (USA), Kings College (UK), and the University of Bochum and Humboldt University (Germany).  As professor of chemistry he has taught in many universities including Addis Ababa, Boston and Botswana.
He is an elected fellow of The World Academy of Sciences (TWAS), African Academy of Sciences (AAS) and of the Ethiopian Academy of Sciences (EAS). Professor Abegaz has published over 180 scientific papers. He has served as the first president of the Chemical Society of Ethiopia and founding editor of the Bulletin of the Chemical Society of Ethiopia. He founded and coordinated the Network for Analytical and Biological Services for Africa (NABSA). He has served on several international committees and boards such as IOCD, ICSU, IFS Board of Trustees, UNESCO Science Board (IBSP), as a member of the Advisory Board of several international Journals, and the African Union High Level Panel on Emerging Technologies. He has also received a few awards of merit, such as the Pierre Crabe Award, the CNR Rao Award, the IFS-DANIDA award, and the Chemical Society Award of Merit.
STIAS Director Hendrik Geyer commented that Berhanu Abegaz's acceptance of the nomination to join STIAS as Permanent Visiting Fellow paves the way for further strengthening ties with the African Academy of Sciences which were established during his tenure there as Executive Director.  "STIAS and the AAS have always shared a common vision of promoting excellence in science in Africa. Berhanu Abegaz has led the way in doing so with remarkable success over the past eight years and we look forward to his role at STIAS, in particular as he interacts with the younger scholars in our programme."
Photograph: Anton Jordaan