"We need a greater focus on prevention strategies that act on the upstream determinants of health in African cities. Such interventions should target the physical and policy environments, and societal norms that shape the conditions in which people live and work. This requires co-ordination across health and non-health sectors given that the majority of exposures that influence disease risk lie outside the health sector," said STIAS Iso Lomso fellow Tolu Oni of the Medical Research Council Epidemiology Unit, School of Clinical Medicine at the University of Cambridge.
"We need to move from thinking about health and disease care to services that promote health. People generally only contact the health services when things go wrong," she added. "We need health and healthcare services to connect. We can't only focus on healthcare. We also need to make the city services health services."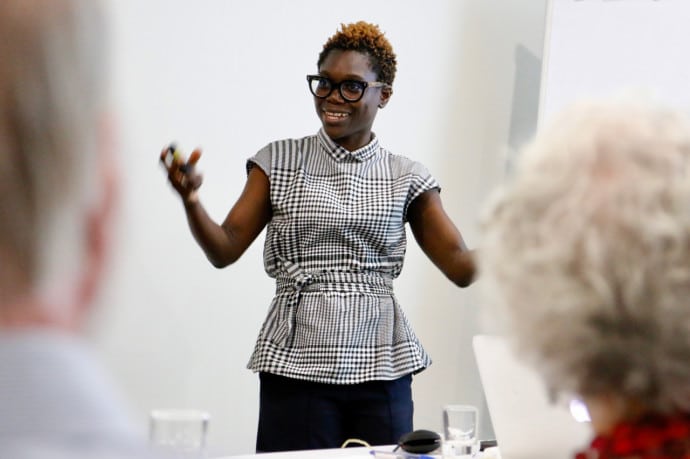 Oni was presenting her work for the Research Initiative for Cities Health and Equity (RICHE) aimed at investigating transdisciplinary approaches to urban health research and, in particular, pushing the case for healthy human settlements in Cape Town. (The group has also recently received funding to expand the work into Douala in Cameroon.)
She pointed to her work as a clinician in HIV/AIDS clinics in Khayelitsha as the germination of her interest in this area. "My work in Khayelitsha showed me that although we were getting better at treating HIV, other conditions like diabetes and hypertension were going unmeasured and unchecked. Co-morbidities were developing. The system was not set up to pick up other things. We were treating disease not people."
"This then made me interested in understanding what it was in the environment, in the spaces where people lived and worked that was making them sick."
"African countries are rapidly urbanising," she said. "Urban dwellers are projected to exceed 50% around 2035. People generally move to the cities for greater access to work, education, healthcare and interconnectivity."
"However, these rates of urbanisation and the unplanned, unmanaged growth of cities in Africa are propelling poverty and inequality. About 62% of urban dwellers in Africa are living in slum conditions. All of this is resulting in both increased infectious and non-communicable diseases."
"The underlying issue remains inequity which is more visible in cities."
Increasing exposure of urban dwellers to unhealthy food and environments that limit physical activity is exemplified by the rise in obesity, hypertension and diabetes. While the rise in dense, unplanned settlements with inadequate infrastructure, increased exposure to air, water and noise pollution and unhealthy home environments is contributing to an increasing prevalence of chronic respiratory and cardiovascular disease along with rising injury and mental health conditions.
Such exposures have early and long-term outcomes. For example, exposure to more food choices may lead to poor eating behaviours and obesity which, over the long-term, may lead to diabetes, hypertension and heart disease.
"This rising burden of disease places an ever-increasing burden on government resources and for low-income households may mean catastrophic healthcare expenditure and loss of income."
Oni also added that in Africa there are further complexities related to historical and political exclusion, the lack of data, circular migration patterns, atypical actors, unpredictable demand and services, the youth demographics and the fact that there is little regional information exchange.
Building bridges
"We need to build, co-create, experiment and share," she said. There is a need to build partnerships, to co-create resources, address knowledge gaps, share best practices and learn."
"The overall question is can urban services and exposures be harnessed to positively influence health. If yes, how and by whom?" she added. "I want to create opportunities to open the conversation and see what happens."
"The broad research questions that need to be addressed include – what is the historical context, who are the actors, how do exposures vary, how do we measure and then mitigate exposures, and what are the effects of interventions?"
The group's research thus far in the Western Cape is aimed at evaluating housing and health policies. It's a mixed-methods study including systematic reviews, interviews and data assessments. It includes investigating the availability and usability of routinely collected population enumerator data and administrative health data to see if it is possible to aggregate and integrate the data to facility and area level, and, ultimately, to link disease status with household and neighbourhood characteristics.
Oni spoke of the challenges of transdisciplinarity – bringing different government departments, disciplines and sectors together and breaking through the traditional silos.
"There is a global call for sustainable human settlements right now. And, as a health researcher, I had to understand a whole other world of relevant global policies beyond just those of the World Health Organization."
"A lot has to do with perceptions," she said. "Things like addressing health versus wellness, the need to stop pretending that the informal is temporary when it comes to living conditions and bringing the biomedical and ecological models together."
"We have to break down barriers, build trust, get the humans and the data to speak, and ensure that we interrogate datasets to guide implementation choices."
Implementation remains the biggest challenge. "There are discrepancies between agenda and implementation. There is programme-level thinking but targets and outputs are still in silos. And many officials don't have the agency or accountability to take integrated health priorities forward."
"This isn't rocket science so we have to ask and understand why we are not getting it right."
Michelle Galloway: Part-time media officer at STIAS
Photograph: Christoff Pauw