"I'm aiming to contribute to the quest for a viable political philosophy for contemporary Africa. The goal is to develop alternative ways of making political ideas and values of traditional Africa relevant for modern times and, in particular, to try to explain the phenomenon of political failure in Africa," said STIAS Iso Lomso fellow Uchenna Okeja of the Department of Philosophy at Rhodes University. Okeja was presenting ideas from his book project undertaken during his fellowship.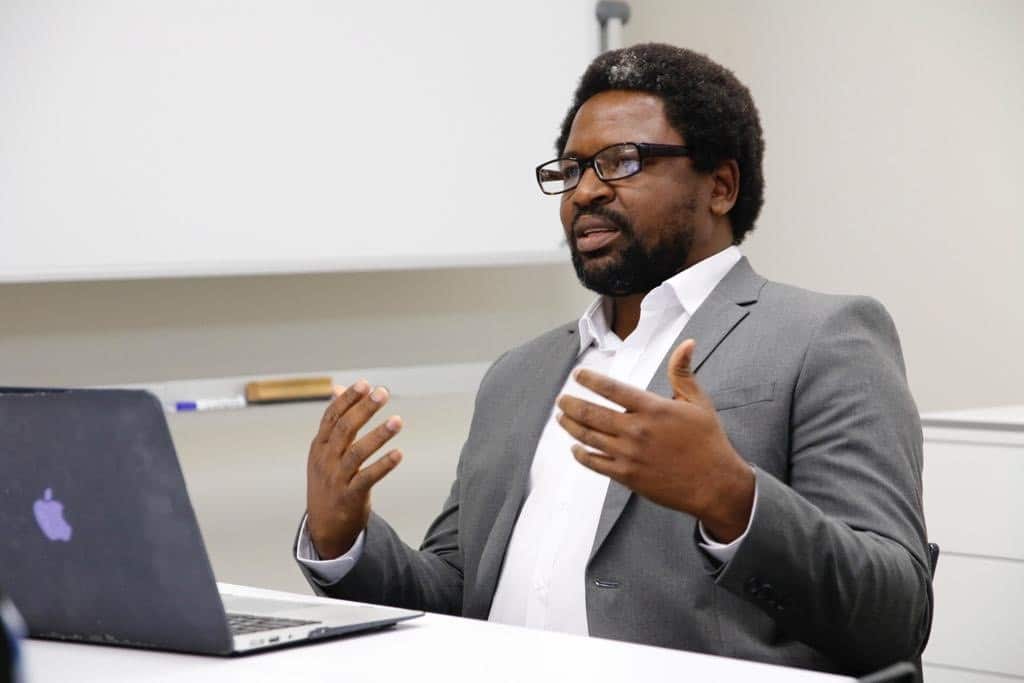 Iso Lomso STIAS fellow Uchenna Okeja during his seminar on 12 September 2019
"My aim is to provide a philosophical reflection on the political condition in Africa. Taken as an existential problem, how should we define contemporary political experience in Africa? I believe that what ails Africa politically has more to do with thought than action. It's a crisis of meaning that issues from normative instability."
Okeja believes there is a demand for the articulation of a new African political philosophy and that at least part of the answer must be sought in the realm of political failure that has distinguished post-colonial Africa. He pointed out that every African country has its unique challenges but that in the African context these challenges have tended to result in political failure.
"There are generations of Africans who have lived their entire existence without good governance," he said. "They have lived in disorganised political conditions without functioning political institutions across generations."
"Many African states are not accountable to their citizens who remain incapable of holding the state to account. Individuals largely feel powerless in terms of the socio-economic conditions. There is a too-thin middle class and outmigration, and, for most people, the realisation of freedom is still a work in progress."
Okeja believes that despite substantial work in the field of African studies, we still lack the conceptual tools to deal with the existing questions.
"Ad hoc engagement shapes most attempts to engage with the African situation," he said. "Hardly any of the participants in this debate has offered anything beyond unsystematic appropriation of aspects of traditional African thought to modern Africa or criticism of what has been appropriated."
He also pointed out that most arguments have been linear, focusing on models centred around political institutions, culture and economics.
"Understanding the problem does not necessarily lead to a solution," he continued. "The central assumption of linear arguments – that solutions will emerge if modernity and development flourish – is flawed. Such linear logic is unable to account for significant aspects of the African experience which persist once the problem is solved. The problem lies in the general assumption that linear logic is fitting for the African political experience. Linear models don't lead to a theory capable of explaining the complex thing I'm describing. We need to reconsider the complicated nature of the post-colonial African experience."
"The aim in this research is to move beyond these approaches by tracing the provenance, dynamics and necessary modifications needed to make notions of the public sphere relevant for politics in modern Africa."
"It's a task of reconceptualisation – of finding new idioms, metaphors and concepts," he said. "We need to develop theories that respond adequately to the situation."
Okeja believes that the everyday experiences of individuals may be the foundation for theory formulation.
"We have to look at everyday experiences of individuals to frame the normative experience;" he said. "We have to conceive the African story to tell it. There are a multiplicity of stories. It's about creating meaning."
Deliberating meaning
Okeja highlighted the practice of palaver as one of the areas in which that meaning is constructed. He is specifically interested in critically reconstructing the ideas embedded in the conceptual metaphors for the public sphere in African political thought, namely, palaver and consensus.
"The African context is still heavily reliant on the oral tradition but it has not yet effectively influenced the structures of state," he said. "Palaver is about public deliberation and is a widespread manifestation of African public culture. It's the practice of finding consensus. I believe that such deliberation reimagined may well be the solution to some aspects of political failure."
"I'm not saying this is only an African story," he added, "but I believe we are challenged to translate the oral discussions that shape the stories Africans tell about themselves."
Michelle Galloway: Part-time media officer at STIAS
Photograph: Noloyiso Mtembu