"The proof of the pudding is in the writing. You have to keep at it every day. It's difficult. I'm always amazed at how many people think they can write a novel," said Ilija Trojanow, author and artist-in-residence at STIAS. Trojanow provided a fascinating glimpse into the conceptual process and extensive research and preparation that goes into writing his novels and gave insight into his work in progress which he described as "a particularly complex one".
"Unwieldy, complicated narratives are recipes for lots of work," he said.
He described his seminar to STIAS fellows as "opening my literary laboratory – usually a very protected and fragile space – and describing the conceptual, factual and linguistic ruminations that define the narrative genesis of a novel".
Trojanow described the novel as being within the utopian genre.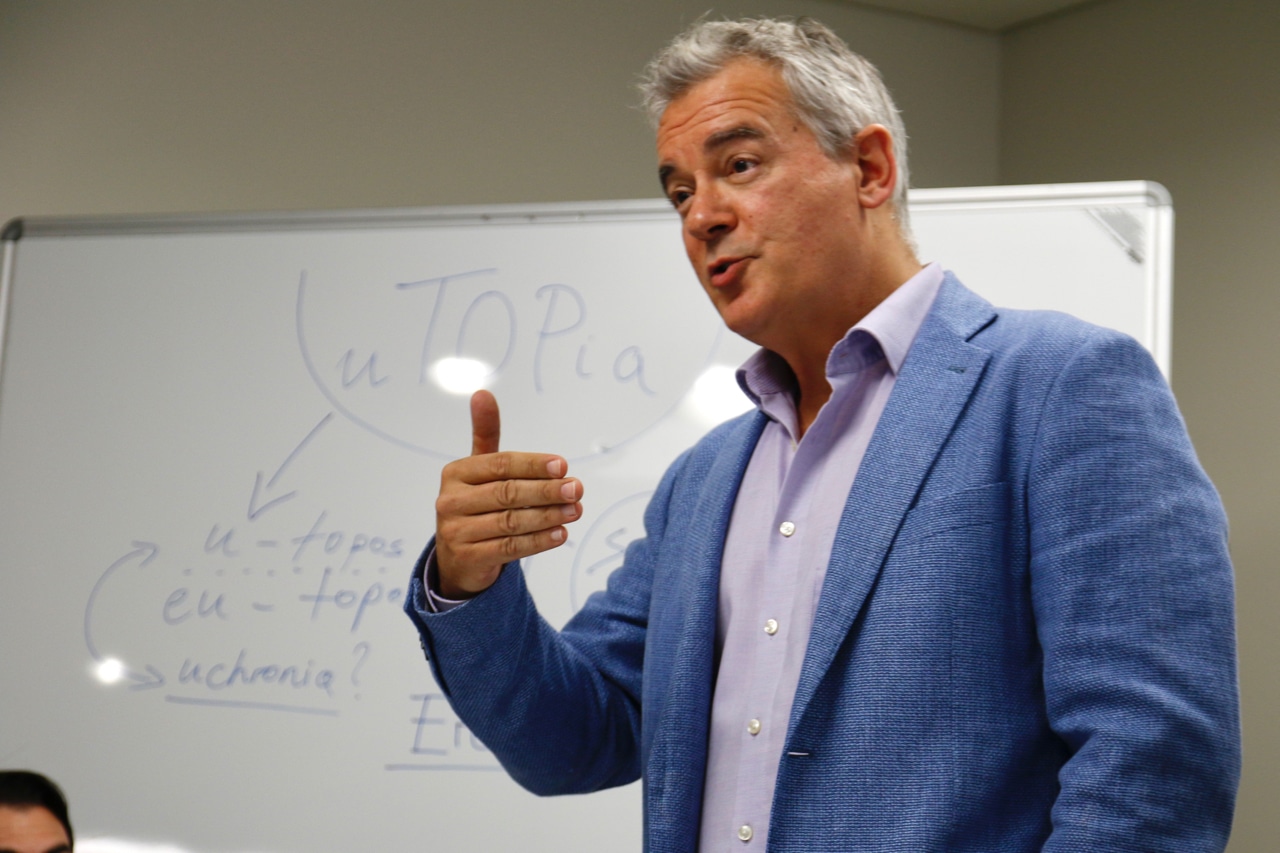 "I'm very interested in this genre," he said. "It has nearly died out. There has been an onslaught of dystonia – Hollywood produces about 20 a year. I felt a poetic and political urge to revive the genre. I think it has fallen away due to intellectual laziness. In offering an exaggerated version of reality, dystonia is easier to write. Utopia requires an enhanced imaginative effort – it's about turning the world upside down, questioning whether reality has to be what it is; aspiring for something unreachable, a beacon, inspiration."
"We live in times of the apocalypse. We keep dystopias like pets: imagining the end of the world is one of our favorite pastimes and a mass-culture phenomenon. Neoliberal ideology has convinced us that it's a shitty world but nothing else is possible."
"I believe it's necessary to resist this trend with literary means by reactivating utopia as a genre. I believe we need a utopian novel."
"But there are inherent narrative challenges," he continued. 'There are few good examples of utopian literature. Previous utopias have usually been dull and schematic, mainly due to the seemingly unavoidable sociology of the fantastic. I'm hoping to find a way to express the beauty of utopian thinking."
"The challenges are huge,' he added, "you have be able to describe in detail a world that doesn't exist – a blueprint for a possible future society – as well as describing how we will get there."
Hence the importance of the conceptual and structural work which aims at figuring out the challenges and solving them.
"Like an architect you want a static outline of the building, a conceptual understanding before you inhabit it. In the end, hopefully, you can throw away the scaffolding," he said.
This groundwork has involved a year of thinking and researching already, and Trojanow estimates the actual writing will take a few years too. "But these are the ruminations a novelist has to undertake and the research you do if you take novels seriously."
In helping him to imagine a utopian future he has conceived of the Utopian Space Project – which will create a platform to bring together the leaders of current utopian thinking from different fields.
"I'm hoping to feed the novel from a political activism project fed by multitudes of noble, clever souls," he said.
When decisions in one world, change those in another
Trojanow will also use the novel to explore a deeper understanding of time travel; the existence of multi-verses – alternative parallel universes; how language has become 'contaminated' in different time periods; and, artificial intelligence. He hopes to unpack the idea of "moments in time when decisions radically changed the destiny of mankind".
"This novel will connect the positive future world with pasts known to us through the narrative means of time travel, so that – as a negative – the madness of the social, economic and political forms of existence chosen by us as well as the possible alternatives become visible."
To do this he envisages a young activist, a time traveller, who is  sent – partly voluntarily partly by accident – to four different epochs: among pirates in the Caribbean around 1720, around the assassination attempt on Lenin in Moscow in 1918, at the Olympic Games in Sarajevo in 1984 and during a religious upheaval in Bombay in the present.
"Each of these temporal levels will make use of a certain genre and differ stylistically from the others. A series of central questions of humanity will be dealt with in a playful and dramatic way."
In discussion, he reflected that there are some questions which should not concern the artist. "An author cannot influence how a novel is perceived – the critics and readers will decide – that's part of the risk."
"But," he added," the creative process is one of continuous doubt."
"I believe that novels are still the best form we have to reflect on the past, present and future. Novels have the potential to reflect on all the major questions mankind faces. The novel is alive and kicking and popular. We should always be exploring the boundaries of what a novel can be."
Michelle Galloway: Part-time media officer at STIAS
Photograph: Christoff Pauw