"I hang on to the notion of a fact, but I am troubled by the notion of truth. Documentary-making will always be an imperfect rendering of the factual record. I go on a journey to find truth but that can also be an emotion, a feeling, a space."
"There's an intrinsic tension at times between my journalistic instincts and documentary film making. I'm subconsciously obsessed by truth but I also want to make an impact on the world. There's huge tension between the impulse to represent the truth but at the same time manufacture a compelling story. It's imperfect but you try to manage it as ethically as possible."
Documentary filmmaker, producer and journalist, as well as STIAS Artist-in-residence, Marion Edmunds reflected on the challenges of documentary film making amidst the stories that emerge from the history of events and the memory of emotions in a country like South Africa.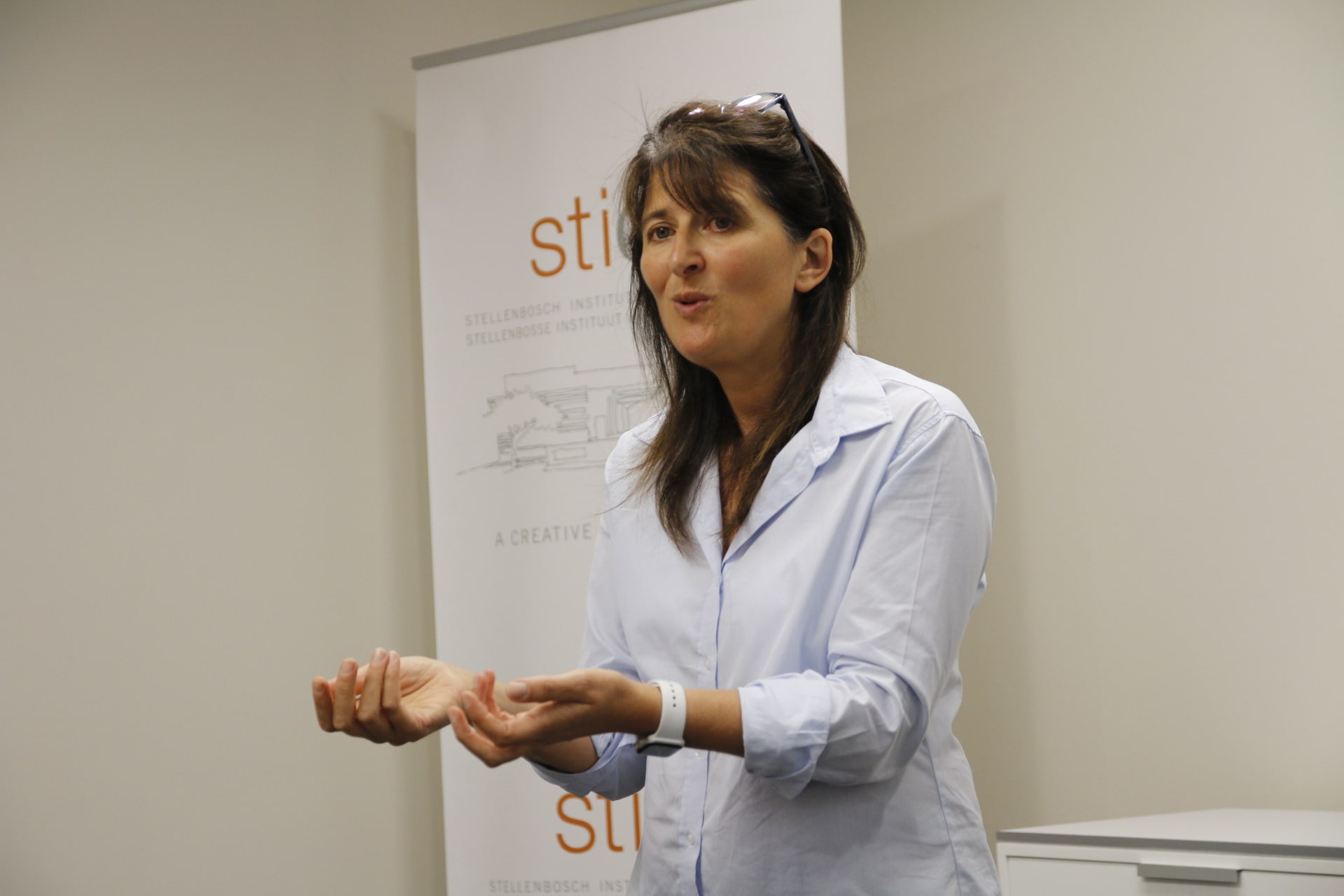 "The genre of historical documentary has become so popular that an entire history channel is dedicated to it,' she said. "But historical documentary story-telling can be an uncomfortable space lodged somewhere between academia, journalism, archive and oral history. In South Africa, it's gaining traction as a way for people to tell the stories that were buried by colonialism and oppression. But invoking the past through visual archive and spoken memory is fraught with challenges. And questions about the nature of truth."
Edmunds drew on her decade of experience in making historical documentaries to explore these questions and gave the back stories to some of the decisions that shaped her content in a fast-evolving digital world.
She described historical documentaries as "an idealistic pursuit. There are so many elements missing.. You want to tell the truths that can be told but also make a connection with an audience with a short attention span."
"I believe that breaking down information siloes is more important than ever," she continued. "Historical documentary making can act as a portal between communities, generations, the past and present. The power of images can transport people to another place."
"But as a journalist – I'm always conscious that facts tell truth – which was already contentious in the 1990s when I started working – reality was censored by both apartheid and the liberation movement."
Truth was always hard to achieve within the deadlines of busy newsrooms "sometimes it came in disguise, sometimes not at all".
She pointed out that documentaries give the space to do more in-depth research and interviews.  "As our history has opened up so have individual and community stories and memories. Legacy documentaries can document a changing South Africa that might be forgotten."
"It's the past through the lens of the present," she added. "South Africa history is not settled, it's disruptive. Stories erupt from unexpected places. You have to include the present in the past but the present mustn't overwhelm the past."
Lack of sources and funding
But historical documentaries are not easy to make. Edmunds described herself as having learnt "on the job" and outlined some challenges she has experienced along the way.
"At the very least you need good pictures, charismatic speakers and good archives," she said.
From her first commission – The trouble with truth – which told the story of the New Age newspaper, Edmunds faced the challenge of accessing contacts ("most were dead or very old"); there was no archive; and, a need to create drama and theatricality for film. Similarly for her documentary on the sinking of the SS Mendi, the only archive material available was in the Imperial War Museum which was very expensive to access.
"The South African archives are interesting," she said "We only had television from 1976 and the state broadcaster had the monopoly on current affairs and news. Images from foreign correspondents were created for a different audience – mainly white. The apartheid archive is valuable for what it is, but there is basically no footage through a black lens. And it's expensive to access. You therefore have to find people from whom to refract the story – witnesses to history."
"The industry is not strong in SA and there is very little money," she continued. "Commissioning editors need to sell the work and bring in audiences so ideally they are looking for drama, jeopardy untold stories and revelations."
This need for drama and emotion can cause tension with the facts.
"Documentaries must have emotion to capture audiences," said Edmunds. "Historians might say this distorts or cannibalises history but if you ignore emotion not many will watch.
"Personal histories are always the most compelling. You need something that shifts understanding and is seductive. It's storytelling and you sometimes have to hammer the history into that space."
She acknowledged that the need for emotion is a risk but believes it's part-and-parcel of the medium. "The personal is elevated in documentaries and people are interested in the personal. A documentary is only successful if people watch it. There's no point making it if they switch off after a few minutes. Books can live without huge numbers of readers but documentaries can't."
"The emotion of an experience is important to remember and might have been underrated to some extent by academic historians. But you also can't exploit emotion unnecessarily or recklessly – emotion for emotion's sake is problematic."
"The aesthetic is also obviously terribly important in film – disproportionately so. It must be wonderful to look at. Beautiful films about ugly stories."
Returning to the elusive pursuit of absolute truth, Edmunds admitted that getting to the truth has sometimes got in the way of practice.  "It's exhausting but I haven't given up."
In this she relies on basic principles of good journalism – double checking source materials; always having more than one source and absorbing competing viewpoints; and, not taking every interview at face value.
"You always have to be able to change your mind and way of seeing something – but that's not uncommon in journalism."
"It's not always possible to have a cast iron defence of every source. There always might be another source you don't know about. You won't ever be able to interview everybody for any particular story. And you know that your own position, background and biases impact on every story. But you work with what you can get and settle on what you feel comfortable with hoping that the pieces of the puzzle merge enough to tell a good story."
"I look for commonalities to open conversations. I work hard at listening and following up if I don't understand. I come as I am and do my best. I see myself as privileged to be able to tell fascinating stories and meet interesting people and, hopefully, make a difference to the way we view and experience our history."
Michelle Galloway: Part-time media officer at STIAS
Photograph: Christoff Pauw