"What is misrecognition? How might we discern its contours as a mode within sociality? In this presentation, I want to read misrecognition by following its appearance across particular nodes of space and time. I'm interested in the cultural life of misrecognition, and I want to trace this social feeling through its disparate, fragmented or inchoate appearances in the quotidian," said Wamuwi Mbao of the Department of English at Stellenbosch University. "I'm guided by Cathy Park Hong's idea of minor feelings as a means to talk about those affects that often do not merit considered attention, but which in fact provide important insights into ongoing material and social inequalities. At a time where conservative social voices are contesting the existence of structural racism, it is more necessary than ever to attend to the complex web of dynamics and flows of feeling that undergird our experience of being together in the world."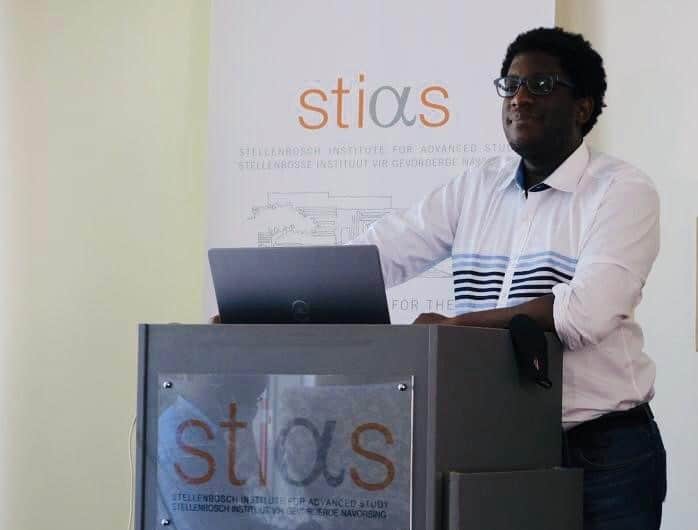 Mbao is part of the fourth cohort of Iso Lomso fellows at STIAS and presented a fascinating glimpse into his project which he hopes will result in a book.
Describing his method as a "loose convergence of things" and difficult to ring-fence – "the more you look, the more you find," he said.
He defined misrecognition as "an error in rendering of what is seen which does not cohere with logic or codes. Misrecognition is both a mechanism for assessment of ownership and a product of imaginaries. It is deeply rooted in our history and a fundamental component in the struggle for recognition."
"But to whom does the error belong?" he asked. "Is the error mine if my presence is not understood as legitimate?"
"We have to ask what genre of experience misrecognition is?  Is it only readable in terms of failure or is it also a description of power? I read misrecognition as both convergence and disjunction, as interruption and disruption."
"It's something that feels like something," he added. "But, what do we do with misrecognition? Where do we put it? And, if we are spending time and energy on it, what are we leaving behind."
Mbao presented a series of what he described as 'statements' that highlighted aspects of misrecognition as a phenomenon of daily life – these ranged from the historical, social and external to the deeply personal and anecdotal, richly interspersed with literary and cultural references.
"It's my attempt to move across genres to understand South African reality in world society," he explained.
He started with the example of the Van Breda murders which occurred in an affluent, gated community in Stellenbosch and for which the son, Henri van Breda, was later found guilty. Breda had initially claimed that a black intruder attacked the family in the dead of night.
"The idea of the black marauder in the night haunts the white South African cultural imaginary," he said. "It was also used in the Oscar Pistorius case. Certain behaviours are accrued to a particular race. It's about one party attempting to control the meaning of another."
Using photographic examples from the Siege of Jadotville in the 1960s and the Bophutatswana coup in 1994, he pointed to an assumption of tragedy that often surrounds "white out-of-placeness".
"Misrecognition applies in particular ways to particular people," he said. "Misrecognition is alien to whiteness – the best is therefore assumed of white people; they are given the benefit of the doubt."
Unexpected arrivals
Turning to personal experiences, Mbao described being mistaken for the black author when attending a panel at a literary festival.
"The space was subject to superficial readings and racial bias," he explained. "But the confusion was made my fault – my presence made the error possible."
"Misrecognition often plays out in moments of moving between spaces – the unexpected arrival."
He also pointed to the challenges of being a black man living in suburbia and being stopped by security guards due to his choice of car.
"In post-1994 affluent suburbia, suburbs and gated communities are seen as places of escape but they also create an exaggerated sense of not belonging for black people. White still implies belonging and colour is used to recognise who is out of place and therefore potentially harmful and criminal. You can be stopped – asked who you are, why you are here, what you are doing. Such racialised stopping is part of the architecture and infrastructure of misrecognition."
"My presence caused a certain twitching in the neighbourhood," he added. "But the insinuation was that I was stopped because I didn't make myself fully recognised."
"I found myself using objects to enhance belonging and to be read as non-threatening. Constantly asking myself if there was something I did that made that happen."
Turning more broadly to the global phenomenon of black men being murdered by white police, he said: "The political origin is obviously about controlling black freedom. If stopped by police the onus is on you to convince them you are not engaged in criminal activity. You have caused the error simply by being. Reading trumps self-identification. And such incidents are written off as an aberration or mistake, not structural failing."
In discussion, he acknowledged the need to investigate the gender aspects of misrecognition and the experiences of black females, the role of black police and security guards who are often used to reinforce these ideas, as well the importance of including the voice of the 'inbetween' groups in society.
He described his work as looking at the real effects of race in the real world.
"But, I am wary of overgeneralising individual experience," he said. "I'm trying to observe the way these things are not either/or but individual and collective simultaneously.  I'm not attempting to develop a theory of how black people are treated across the world.  It's largely anecdotal, rooted in my own experience."
"I'm looking at what is happening, how people are treated in moments of encounter. I'm not necessarily trying to find a Messianic solution."
"I dwell between pessimism and cautious optimism," he continued. "I don't think of myself in every context as black. It's often about what remains of the past – sometimes it's just an aftertaste – and also how it shifts in different geographies. This is not a distinctly South African issue."
Michelle Galloway: Part-time media officer at STIAS
Photograph: Noloyiso Mtembu