"Pragmatic markers are short linguistic expressions such as but, well, okay, and you know which are used to manage talk, and which index the relationship between addressers, addressees, and their messages. Such markers from indigenous African languages (e.g. koraa in Akan, biko in Igbo, and sasa in Swahili) are sometimes inserted by African second language speakers of English into utterances in English. This study examines these borrowed or bilingual pragmatic markers (BPMs) in Ghanaian, Nigerian and Kenyan Englishes, from a postcolonial corpus pragmatic framework," explained STIAS Iso Lomso Visiting Scholar, Foluke Unuabonah of the Department of English at Redeemer's University, Ede, Nigeria.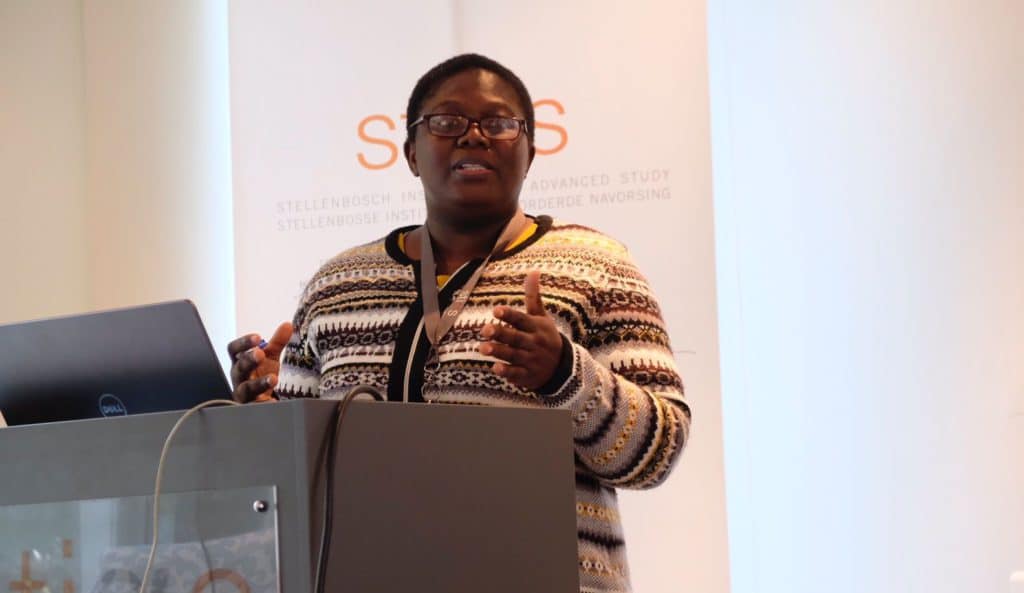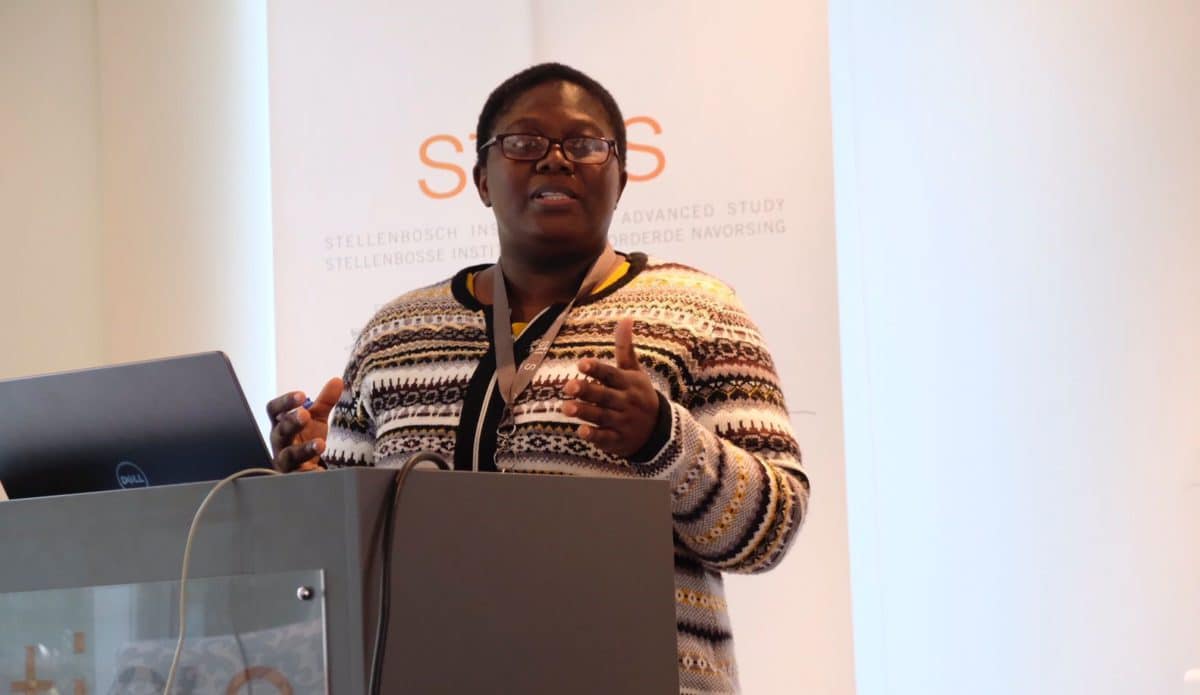 Unuabonah has been examining pragmatic markers for a number of years and this study on their use in African Englishes builds on extensive study of pragmatic-marker borrowing from Asian languages by speakers of Asian Englishes.
She explained that English came into contact with West Africa in the 16th century, and with East and Southern Africa in the 19th century. It became a second language in some countries such as Ghana and Kenya, and an official or co-official language in these countries. It co-exists with over 600 languages in West Africa, 250 in East Africa and 120 in Southern Africa.  And there are many varieties of African Englishes – for example, Nigerian English and South African English – with both distinctive features and commonalities.
"I will be looking at this from a postcolonial corpus pragmatics perspective," she said.  "This is a perspective that examines pragmatic phenomena such as address terms and politeness strategies that are influenced by the transfer of indigenous languages and cultures to a European language or the other way round."
"Very few studies have examined the commonalities in pragmatic markers in African Englishes as well as the structural and functional properties of these bilingual pragmatic markers," she added.
Adding emphasis and emotion
"Pragmatic markers do not add to the content of an utterance – it is still a meaningful sentence without them but they are important for the interpretation of the utterance," she explained. "They have one or a set of meanings, different functions, and indicate the relationship between the addresser and addressee. On the whole, the presence of BPMs contributes to the differences between first- and second-language varieties of English at the level of discourse- pragmatics."
Unuabonah is looking at aspects such as the choices, sources, meanings, spelling adaptations, placement and grammatical constraints, similarities and differences, as well as the social, communicative and cultural factors that account for the borrowings and spread of these markers.
The data are taken from the Ghanaian, Nigerian and Kenyan components of the International Corpus of English (ICE) and the corpus of Global Web-based English (GloWbE). Later, Unuabonah will include South African and Tanzanian varieties of English in her study.
Both corpora contain examples of naturally occurring texts from multiple spoken and written sources. ICE also has metadata on sex, ethnic group and other social demographics – which can give a clearer picture of who uses the markers and in what context.
The corpus data are further complemented with interviews with speakers of these varieties of English and will be analysed qualitatively and quantitatively, using the theories of fusion and pragmatic borrowing.
"The project will discuss the cognitive basis for the deployment of BPMs in these African English varieties. It is expected to contribute to research on corpus pragmatics and BPMs in African Englishes, areas that have not received adequate research attention among African linguists."
In her analysis, Unuabonah has found a dominance of Yoruba BPMs in Nigeria, Akan BPMs in Ghana and Swahili BPMs in Kenya. She has also found some structural and functional similarities in their use in Nigerian and Ghanaian Englishes – which probably reflects shared cultural values, influence and geographical proximity. The data from Kenya also point to the need for some revision on BPM defining characteristics based on clause positioning and pragmatic functions.
In her discussion, she noted that social and cultural factors could include the need to project shared ethnic and national identities, enhancing informality, reducing social distance and reaffirming solidarity.  She also explained the use of Nigerian Pidgin which is also widely spoken In Nigeria but which is usually used informally – with a reluctance to use it at a formal level.
"But," she added, "there is much more acceptance of indigenous terms in Nigerian English now and this shows evidence of its endonormative stabilisation. There are currently three dictionaries of Nigerian English."
She also highlighted the ability of BPMs to capture a range of emotions in one word. "You can also change the tone of a conversation by using BPMs," she continued.
"When people emote they tend to go back to their mother tongue. Their use may show the inadequacy of English terms. They are used for full expressions, where there is no similar word in English. In some cases in Nigeria, a few of these markers capture the religious identity of the user. From the interviews, I've found that people are generally quite aware of how they use language and in particular, these markers."
"Most BPMs are used by younger people," she added. "Older people tend to avoid them when they speak in English. A young interviewee mentioned that he uses these BPMs due to peer pressure and to indicate a sense of belonging."
As their use is very much spread through social media, BPMs also feature in communications in diaspora communities. "Nigerians abroad signal their Nigerian identity and show their sense of belonging by using these BPMs."
Michelle Galloway: Part-time media officer at STIAS
Photograph: Noloyiso Mtembu