"This cohort in residence will have the privilege of saying that during our time at STIAS one of our colleagues was awarded one of the world's most prestigious prizes – the PEN Pinter Prize for 2021 – awarded this week to Tsitsi Dangarembga," said Edward K. Kirumira, STIAS Director during a farewell reception for the current group of STIAS fellows. "We don't get tossed, we make the waves! We thank Tsitsi for adding the icing on the cake for this wonderful cohort of fellows and artist-in-residence and express congratulations and deep gratitude from the entire STIAS team."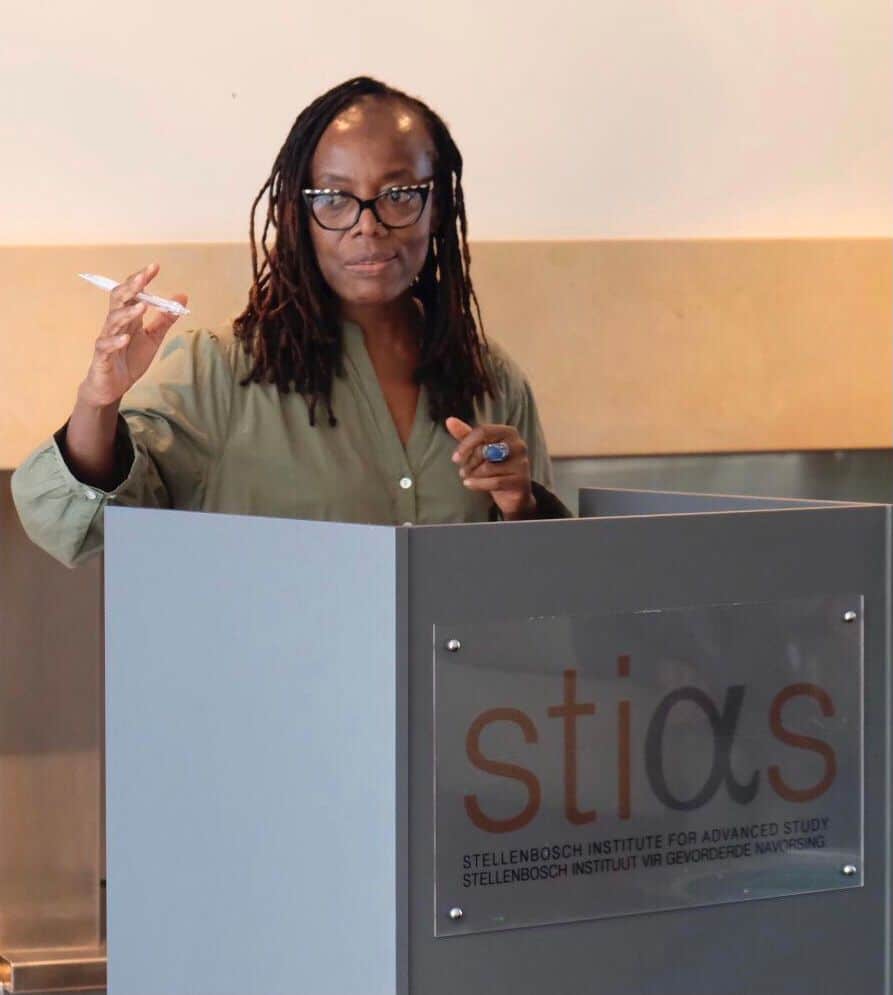 Zimbabwean novelist, playwright, filmmaker, activist and STIAS Artist-in-Residence Tsitsi Dangarembga was announced last week as the winner of the prestigious PEN Pinter Prize for 2021.
The PEN Pinter Prize was established in 2009 in memory of Nobel-Laureate playwright Harold Pinter. It is awarded annually to a writer of outstanding literary merit resident in the United Kingdom, the Republic of Ireland, the Commonwealth or former Commonwealth, who, in the words of Pinter's Nobel Prize in Literature speech, casts an "unflinching, unswerving" gaze upon the world and shows a "fierce intellectual determination … to define the real truth of our lives and our societies". Former winners include Margaret Atwood, Salman Rushdie, Tom Stoppard and David Hare.
Tsitsi Dangarembga was chosen by this year's judges: The Guardian's Associate Editor for Culture and English PEN trustee, Claire Armitstead, literary critic and Editor-at-large for Canongate Ellah P. Wakatama, and poet Andrew McMillan.
"I am grateful that my casting – in the words of Harold Pinter – an 'unflinching, unswerving gaze' upon my country and its society has resonated with many people across the globe and this year with the jury of the PEN Pinter Prize 2021," said Dangarembga. "I believe that the positive reception of literary works like mine helps to prove that we can unite around that which is positively human."
Educated in Zimbabwe, England and Germany, Dangarembga began writing plays while at the University of Zimbabwe, where The Lost of The Soil (1983) and She No Longer Weeps (1984) were first staged. The first volume in the Tambudzai Trilogy, Nervous Conditions, appeared to critical acclaim in 1988. Its sequel, The Book Of Not was published in 2006. Her third novel This Mournable Body was published in 2018 and shortlisted for the Booker Prize in 2020.
Dangarembga's films have been screened in festivals across the world, including the Sundance Film Festival. She divides her time between Harare where she is director of the Institute of Creative Arts for Progress in Africa Trust, an institution focusing on the role of all arts disciplines in development, which she founded in 2009, and speaking at events around the globe.
Her residence at STIAS was spent working on her fourth novel, Sai-Sai And The Great Ancestor Of Fire which she describes as "young adult dystopian speculative fiction designed to sensitise African and global adults, to the need to engage politically and personally in order to take their destiny into their own hands. It challenges contemporary and traditional customs and norms and spiritual concepts that no longer serve a rapidly evolving world, while adopting a more African cosmology. It also challenges modern and post-modern traditions and norms that do not deliver societal goods. Set in a post-apocalypse southern Africa, the novel proposes a new paradigm for doing necessary for Africa's progress".
Dangarembga will deliver her keynote address in acceptance of the award at a ceremony hosted by the British Library and English PEN on 11 October.
STIAS stands proud for being a creative space for the mind that internationally recognised scholars, writers and artists, public intellectual have come to appreciate, in the words of Patrice Haynes (scholar in residence with Tsitsi Dangarembga) as a real treat of "feeling part of a supportive, inspiring, rigorously scholarly community."
Michelle Galloway: Part-time media officer at STIAS
Photograph: Noloyiso Mtembu