Property, belonging and 'licit ownership' in Luanda, Angola
"How is property recognised outside of official laws and regulations? As part of a book project focused on the politics of aesthetics in oil-boom Luanda, this presentation discusses how residents of Luanda's informally built neighbourhoods, known as musseques, understand property recognition to be based not only on formal legislation or even unofficial institutions, but in the very materials of the house," said STIAS Iso Lomso fellow Claudia Gastrow of the Department of Anthropology and Development Studies, University of Johannesburg. "In the face of growing demolitions, the destruction of homes is therefore experienced not simply as a personal trauma or financial loss, but as the material undoing of political relationships and agreements that have long hinged off the materiality of what I refer to as 'licit ownership' practices of ownership that while illegal are viewed as acceptable and legitimate by urban residents. Tracking the experiences of three neighbourhoods struggling for compensation following demolitions, I show how the materiality and design of the home became key in ongoing negotiations with private investors and state representatives in the neighbourhoods' attempts to seek redress for their losses."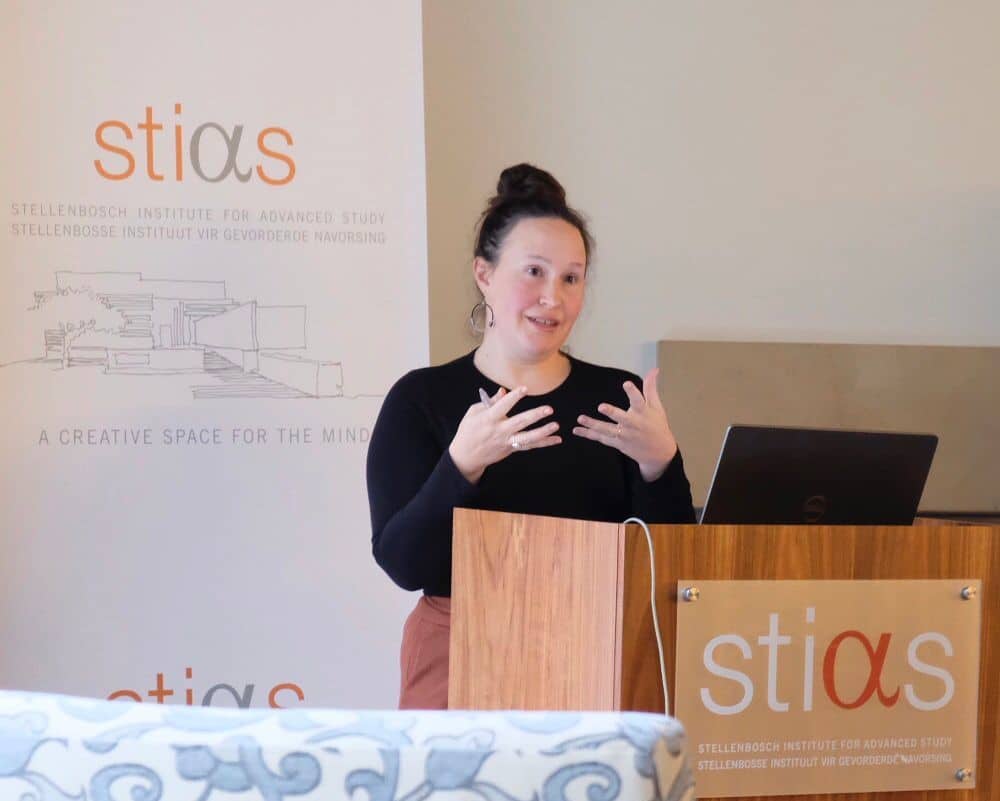 Gastrow began by explaining the unique features of Angola's history. "Angola is seen as a 'hinge country' between central and southern Africa," she explained. "It gained independence in 1975, followed by civil war from 1975 to 2002, then an oil boom from 2003. Being flush with petro dollars led to national reconstruction – state subsidised and mostly centred around big infrastructure. Housing was seen as a peace dividend."
The discovery of oil made Angola different from other African countries where reconstruction also followed independence. "The projects were driven by oil not foreign investment although there was a huge inpouring of foreign service-providers. In fact, some Portuguese construction companies were saved by the Angolan oil boom."
Angola's economy was very inward focused under the Presidency of José Eduardo dos Santos (President from 1979 to 2017). "It was a period of stabilising control in a fragile state after one of the longest wars on the continent. They also didn't want the conditions that external donors and investors might impose."
"The discovery of oil and end of the war meant people wanted to see something happening. There was a demand for modernity."
Reconstruction and destruction
But it was reconstruction and destruction at the same time with people being forcibly removed from city centres to outlying housing projects. "There was a massive population movement from the city to the peripheral areas," said Gastrow. "One project rehoused 200 000 people in ten years."
Such relocations were not new in the country's history. The first occurred in 1864 to facilitate creation of white settler zones justified by the need to expand business districts and stop the spread of disease. However, since independence, demolition had largely ceased until the 1990s and then post-war period. The shift in the 1990s to a market economy opened new opportunities for speculation and accumulation, which led to a reconsideration of the value of urban land.
However, some expulsions were still about elite land consumption – especially when  families from Boavista were rehoused following the destruction of the neighbourhood in 2001.
Lack of official land and property ownership meant that the threat of demolition hung over many.
"Many had occupied property without going through formal channels. The Land Law was rewritten in 2004 to revoke such good-faith occupation," said Gastrow.
She explained that governance of neighbourhoods was facilitated through Resident's Committees started in the 1970s to monitor neighbourhoods and rejuvenated in the post-civil war period. "There is no democratically elected local governance in Angola," she said. "The committees played a central role in managing neighbourhoods, dispute resolution, identifying violations and ensuring the imposition of state directives. They were a key way for the state and party to reach neighbourhoods. Although they were supposed to be elected this often didn't happen in practice and strong vetting procedures probably eliminated anti-MPLA supporters."
Although they had long existed in a "legal grey zone", a new law in 2016 recognised them  as non-partisan, voluntary organisations to better the lives of those who lived in the neighbourhoods where they were based.
"Recognition from the committee often stood in the place of legal tenure and ownership documents. The committees served as community authority which, in turn, implied state recognition."
Gatrow gave details of the different experiences of three neighbourhoods faced with cycles of demolition and expulsion/relocation justified by claiming illegal occupation, attempts at opposition and negotiating for compensation often involving violent demonstrations, and the eventual planning to rebuild.
"The existence of licit ownership plus highly politicised relationships meant that relationships were mediated through the built environment."
"For many, demolition of their properties necessitated building corrugated shacks because only the wealthy could afford to live in project housing . Such people were effectively downgraded, seen as going backwards to impoverishment, and faced marginalisation as shack dwellers."
In this environment materials became the focus of ownership. In most cases properties were demolished without compensation but, where compensation was given, decisions were based on the material quality and size of the house.
"For people stuck in corrugated dwellings, cement became the basis for reclaiming status," said Gastrow.
People in some neighbourhoods began to rebuild to force a response from the government. But rebuilding was planned around bringing to an end perceived "disorganisation" in planning by imposing legal and aesthetic order. "Construction was reconfigured as conciliatory and aligned with the aesthetic ideas of wealthy neighbourhoods. They assumed the government would put in infrastructure if they copied the aesthetic standards of government projects."
"The idea was that recognition could be based on meeting the aesthetic and material standards of belonging. Thus, belonging was produced through everyday objects not only the abstractions of the law."
Even so, many people believed that the first to be rehoused were those neighbourhoods or individuals aligned with the ruling party, a feature highlighted by a satirical YouTube video made in 2011 which implied that Angolans only received accommodation and ownership if they were party members.
"'Partysization' is a common feature of Angolan politics. The video highlighted what Angolans already knew – that ownership was not only about the law. It highlighted the gap between performance and public laws, and the everyday experience of property and ownership."
"Material markers were always important, even in colonial times," continued Gastrow. "Ownership was based on physical signs. There is a long history of defining building as temporary based on the materials used – this is always in the rhetoric and sometimes in the legislation."
"In Luanda the ambition was to build. People often preferred site-and-service – literally building oneself into the city. There was an attachment to the construction process, of being part of how the city has grown. The change in materials over time was linked to perceptions of modernisation with specific ideas of what a modern city should look like."
Michelle Galloway: Part-time media officer at STIAS
Photograph: Noloyiso Mtembu