"Land reform is important to address past injustices but, in the context of persistent rural poverty, income is central.  I'm suggesting a pragmatic, gradual approach based on production, rural livelihoods, projects and partnerships," said William Beinart, emeritus professor at St Antony's College, University of Oxford and associate of the African Studies Centre.  He agrees that the debate cannot escape history, rhetoric and race in South Africa but suggests, that growth in the agricultural sector and rural economic development should remain key elements, rather than a focus only on the transfer of land.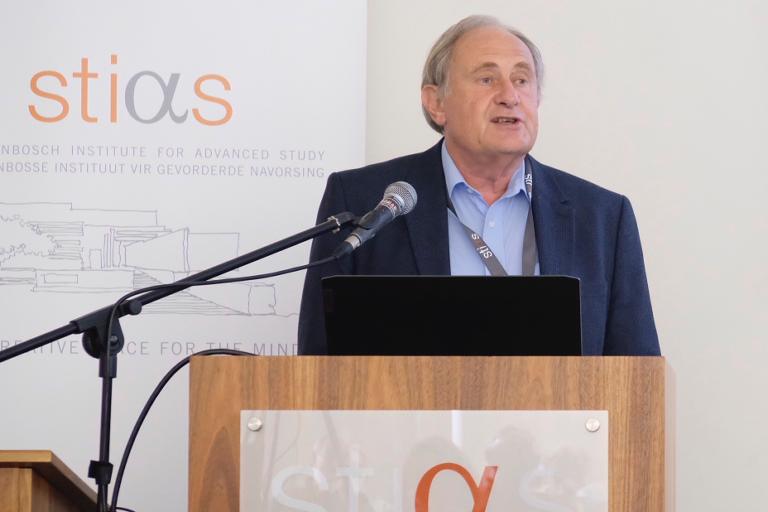 Beinart was presenting the first STIAS public webinar of 2022. He was educated at the universities of Cape Town and London and worked at the universities of Bristol and Oxford. He was Director of the African Studies Centre at Oxford, President of the African Studies Association of the United Kingdom and served on the Oriel College commission assessing the Rhodes legacy in 2020 and 2021. His research has focused largely on the history of South Africa, especially the Eastern Cape, and on environmental history. In recent years he has written extensively on land reform and been involved in land-restitution cases.
"I'm a historian, not an agriculture expert," he said, "but I have been engaging with rural history for over 50 years."
He pointed out that in the last six years economic growth in South Africa has stalled with growth at less than 1%, and that corruption and inequality have become intractable. "2020 saw a 7% contraction in GDP. GDP per capita peaked at $8000 in 2010/11 and declined to $5500 in 2021."
In 1994 only 14 – 15% of agricultural land was held by black Africans, largely in the former homelands. The rest was white- or state-owned.  But he emphasised that the majority of people living on white-owned farms were black. According to the Presidential Advisory Panel (2019) about 10% of agricultural land has been transferred since 1994, and a more recent source suggests about 17%, including private purchases to make 32% in total, much in the wetter half of the county.
"White-owned farms were central to the project of colonisation and apartheid," said Beinart. "But would unravelling them now be economically destructive? We need to keep capital and skills on the land. Large-scale commercial agriculture has increased in value and volume over the last five years with intensive investment in certain sectors."
He pointed out that maize – the most important staple of poor people – has had four of the largest harvests ever in the last six years. Citrus has become our most valuable export commodity – earning perhaps R25 billion in 2021 despite the need for long-term investment, and accounting for over 120 000 jobs although many are seasonal. Poultry and eggs constitute 20% of the sector.
"Commercial agriculture is increasingly diverse and innovating," he continued. "The agricultural and mining sectors survived best through COVID. Land prices are increasing, wages are still low but there have been improvements at the lowest levels."
Agriculture for subsistence
By contrast the evidence on smallholder production is uneven, with no reliable figures. "Government figures suggest that smallholders produce 5% of maize. Maize produced in the former homelands may have declined over the last 30 years. In the early years of land reform it was believed that if people received land they would use it but this is not always the case."
Beinart pointed to fieldwork he was involved in in Mbotyi in Pondoland on the Eastern Cape coast from 2008 to 2012, which helps to understand why poor people don't use arable land. Some of the reasons include high costs and risks in relation to benefits, small land sizes, diminished control over family labour, especially women's, theft, as well as the 'tyranny of cattle' where  livestock eat crops due to declining herding activities. "It's agriculture for subsistence not subsistence agriculture."
"Much of the land transfer has been led and funded by the state," continued Beinart, "but the state's Proactive Land Acquisition Strategy (PLAS) is reaching an increasingly narrower group of beneficiaries".  He mentioned a recent report that indicated about 20% of PLAS farms are reaching their potential. Post-settlement support and investment has been inadequate.
Turning to lessons from neighbouring countries, Beinart highlighted Zimbabwe and Malawi. He said that Zimbabwe shows the dangers of fast-tracking land reform. There was plummeting production after 2000 and this contributed to the GDP falling by about half over 10 years. It is only after 20 years that maize production is recovering. Malawi, on the other hand, is a striking example of smallholder success in the region producing about a quarter of the maize of South African commercial farmers with input subsidies a major factor.
Tobacco output in Zimbabwe is now also promising. After rapid land transfer, production initially dropped to 40 per cent. However, in 2005 a Chinese company established input and purchasing schemes and tobacco is back to levels of production last seen in 2000, exporting 10 billion tonnes in 2019 mostly to Chinese markets.  Input subsidies and global connectivity have proved central.
Partnerships are one way forward
Beinart said that these examples helped to outline routes for South Africa. He discussed a number of successful South African partnership models and schemes which he believes have potential for the future. "In a context where state funding and capacity is limited, engagement by commodity organisations, commercial farmers and the private sector, as well as NGOs, provides a promising way forward. A variety of projects in sectors such as sugar, forestry, wool, fruit and dairy have absorbed tens of thousands of participants."
"Investment is key to increasing livelihoods," he added. "The urgent need is to invest in the land."
Partnerships and private-sector initiatives have facilitated transfer of skills and knowledge including access to extension services, infrastructure development, financial management and marketing, as well as the enhanced efficacy of large-scale production. In this regard, Beinart highlighted a woolgrowers project which accounts for 8% of the national wool clip and raised an income of R383 million in 2017/8; the Grasslands Dairy Trust near Jeffreys Bay which involves 49 local farmworker and by 2018 was able to pay each member R150 000 profit in addition to wages; as well as the Witzenberg PALS in Ceres which sponsors about 30 projects involving established farmers and farmworkers to produce Woolworths' quality nectarines and many other fruits. It is planning expansion to other provinces.
"Such partnerships with farmworkers and communities seem to be creating synergies," said Beinart. "Politics from below has shaped the process. Connectivity and capital are vital to increased production."
He indicated that the state had supported such public-private partnerships, which can be used to leverage the private-sector funds, but that in some cases government inputs had been uncertain.   Private-sector and commodity-organisation initiatives are having a wider reach than the state PLAS scheme but do not exclude the state schemes. They are not all successful (and we must learn from the disasters) but the knowledge generated for tens of thousands can be transformative.
"Farmers are no longer so defensive about land reform. The political rationale for the private sector and commodity organisations includes their realisation that a broader base is necessary with greater participation by black farmers. They are also keen to broaden support for private landownership and to meet the requirements for black economic empowerment and gradual deracialisation of the sector."
In conclusion he noted: "There are many contrasting imaginaries about what life can be – but central to most people's lives is income, food and education. Despite the different arguments about the future I think we all share the same idea about improved rural livelihoods."
He argued that there needs to be collective rethinking about what to do with the available land. Land has many meanings; some argue that it's justified to have land transfer and restitution without a requirement for production. Equally, not every family can have agricultural land.  He also argued that land for housing in urban and peri-urban areas must be a priority and there is still considerably migration to the cities.
"We have to ask what the cost would be of potentially dismantling the capitalist agriculture system in South Africa as a whole? I accept some of this is uncomfortable in contrast to the strong political arguments in the country, including expropriation without compensation. But it is likely to be a better route to improving rural livelihoods."
Michelle Galloway: Part-time media officer at STIAS
Photograph: Noloyiso Mtembu