China and the West's digital battle and Africa's digital destiny
"It's no zero-sum game," said Qingxiu Bu of the Sussex Law School, University of Sussex. "Digitalisation is a like a roaring beast that is difficult to control. There is a vacuum in global regulation and law. We need new global governance of the data landscape and urgent action to reclaim digital sovereignty."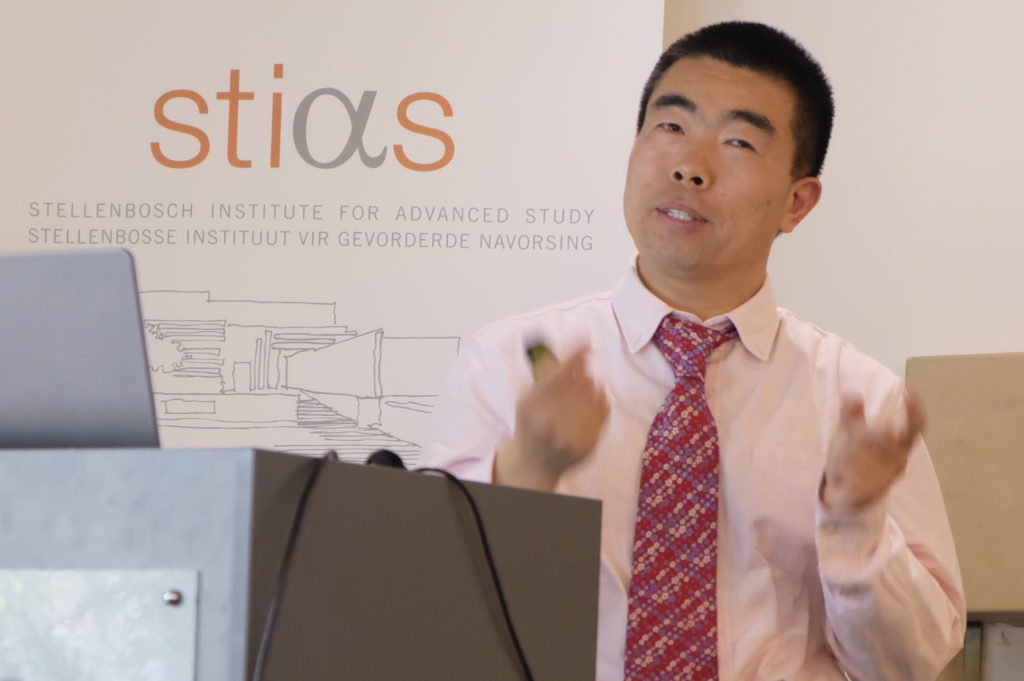 "The topic is relevant to fundamental rights," he continued. "Most people in the West, with South Africa no exception, use Whatsapp, Google and Facebook and think they don't pay. But there are no free lunches – to get something you have to give something. Mobile companies collect, process and harvest data to produce algorithms that predict our interests and behaviours for profit. As the CEO of Google has pointed out – they know who you are, where you are and what you are trying to do. Data has a dark side. We all enjoy the economic value of digitalisation but need to fight the social-harm aspects."
"Data is the new oil – the lifeblood of capitalism," he continued. "Nothing is secret. We give personal data freely in exchange for access to a 'free' platform. It's a trade-off with most of us not reading the terms and conditions. Huge amounts of data are shared in multinational, corporate and government databases."
The growing threat is data persistence and the use of data for purposes other than its initial intent. Using the example of COVID-19, Bu said: "Nearly every country in the world did contact tracing for COVID-19 but what did they do with the data afterwards? In some cases data were used to limit the movement of citizens."
A China/US/EU battle
There is no question that digital capabilities will continue to revolutionise our economic and social life. The modern digital economy relies on big data and artificial intelligence, which are becoming the lead drivers of wealth creation and global transformation but technological advancements and increasing interconnectedness are drastically altering the economic landscape.
"There are an array of data-related challenges on which global consensus remains elusive, with critical debates over the rules governing privacy, and the transfer of data across borders. There are also significant differences over the national security dimensions of data governance and the appropriate role of government intervention in the digital economy. In this context, the Sino-West battle for global digital supremacy is unfolding and compounding existing digital governance and economic challenges," said Bu.
"The West and China are locked in a clash of fundamental values."
China's digital economy accounts for 5.5% of GDP with a goal to increase this to 10%. China is also home to 270 technology unicorns – privately held start-up companies valued at over US$1 billion.
China does not permit Twitter, Google or Facebook, but data show that eight of the most heavily surveilled cities in the world are in China. China is also leading the global surge in surveillance technology – by 2019 over 80 countries had adopted Chinese surveillance techniques.
And it's increasingly becoming a global public concern. Bu pointed to data highlighting the differences – "45% of US citizens want more rigour; 35% believe technology companies have too much power; 63% approve the use of facial recognition technologies by the police but only 4% for commercial use, and, 83% want tougher regulations for data privacy. There is much broader public willingness by the Chinese – over 83% are willing to exchange their privacy for the convenience and safety of technologies. You do everything with your mobile phone in China."
State control seems to be the bottom-line for China. This year China's cybersecurity regulator fined ride-hailing company Didi Global $1.2 billion saying it had violated laws on data security and the protection of personal information. Under pressure Didi also delisted from the New York Stock Exchange.
"China's growth rates have corresponded with the rise of digital state capitalism," continued Bu. "The government typically owns or controls firms in strategic sectors, which enables it to increase its advantage over the rest of society. In particular, the Beijing Digital Model sets no clear limits on the authority of government to intervene in public life."
"The Model not only deviates from the US Digital Model, but also differs from the Brussels Effect whereby global companies' operations comply with the General Data Protection Regulation (GDPR) in the European Union. The missing link in artificial intelligence/data-enabled transformation is consensus on global data governance."
And what about Africa?
The Belt and Road Initiative (BRI) is a global infrastructure development strategy adopted by the Chinese government in 2013 to invest in other countries and international organisations, and assume a greater global leadership role – 149 countries have signed up to the BRI including many in Africa. "These states exhibit increasing demand for Chinese-built digital infrastructures and emulate to various degrees China's approach to data governance in their pursuit of data sovereignty. China's Digital Silk Road aims to enhance the interoperability of digital ecosystems in some countries and China's digital infrastructures and e-commerce services have become increasingly ingrained in the social, economic, and legal structures of various African countries. This demonstrates the international digital outreach of China, and Beijing's attempts to strengthen China's soft power and geopolitical influence," said Bu.
"I wouldn't like to see Africa turned into an Orwellian state," he continued. "But states may be constrained in policies by falling into digital dependency – a golden straitjacket." He did, however, point to some signs that Africans are becoming increasingly suspicious and specifically worried about transparency, human rights and environmental issues.
"Of course, the African continent is not one country," he added. "And although the Chinese model seems to appeal to more authoritarian countries there is a need for more empirical research and case studies to inform future decisions."
Some of the questions Bu will address in detail in his STIAS project, which will result in a book, include:
What are the implications of the Digital Silk Road for AI and industrial competitiveness, national security and governmental interventions?
To what extent is the trend of China's adoption of data-protection legislation inspired by the EU's GDPR?
How do Chinese institutions adapt to new challenges arising from Western data governance, while simultaneously trying to become a hegemonic power?
In an increasingly digitised world, is China competing with the US to impose its tech standards globally, and, at the same time, impose its digital governance standards globally?
How can the world achieve global consensus on digital governance through multilateral institutions, given that there are very few existing laws that govern cyberspace?
How do African states address the dilemma between the Beijing Digital Model and governmental control over data flows, given most of Africa's reliance on Chinese digital infrastructure and surveillance technology?
"These questions need to be answered critically to understand the complex interactions between the Beijing Digital Model and its influence on digital governance in other territories, specifically Africa," said Bu. "An important concern for African policymakers is to establish an approach to digital governance that promotes the use of an open internet, while also safeguarding the privacy of users, national security, and digital sovereignty. In the context of the China-West battle for digital supremacy, which form of digital governance – digital authoritarianism (as espoused by Beijing) or digital democracy (as promoted by the US and EU) – African countries will subscribe to will determine whether China or the West will have a bigger say in Africa's digital transformation."
Michelle Galloway: Part-time media officer at STIAS
Photograph: Noloyiso Mtembu