Literary self-making and the humanities in the postcolony
"The Amateur foregrounds unexpected forms of reading, writing and learning as they unfolded on the margins of the British Empire. There are intriguing accounts of autodidactism and critical self-making left by writers, thinkers and activists under repressive or exclusionary systems of education enacted by different phases of colonial rule," said Saikat Majumdar Professor of English and Creative Writing, Ashoka University, India. "But it is the disruptive relation to the traditional structures of knowledge and institution that underlay their later success as popular intellectuals."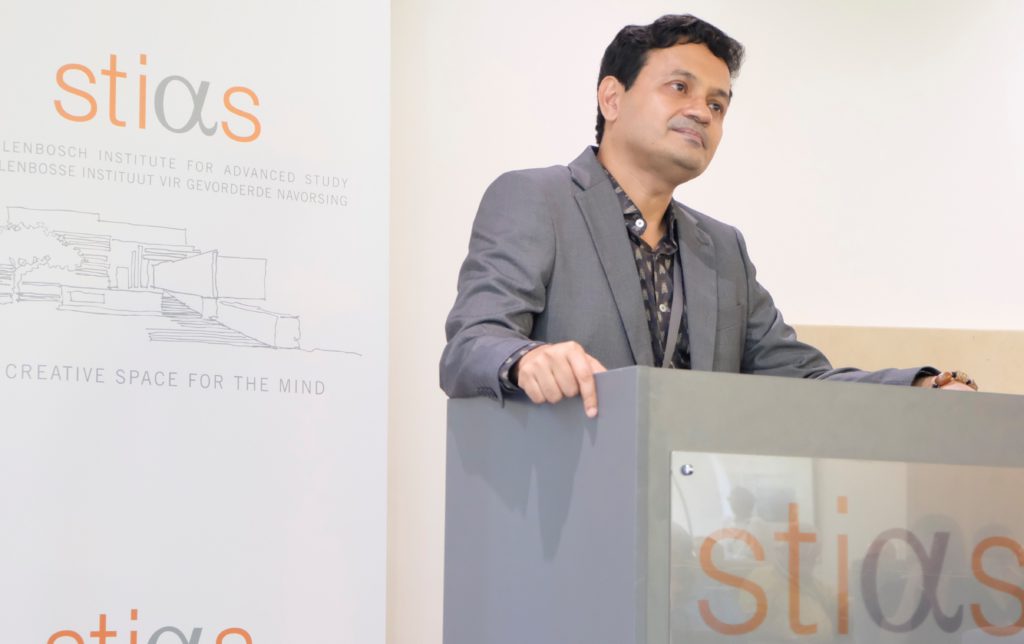 "My archive draws on three locations: a group of black thinkers in mid-20th century South Africa, 20th century Caribbean writers who seek to understand the disembodied legacy of the diaspora through accidental encounters with literature and history, and a group of writers from late-colonial and early-postcolonial India whose intellectual amateurism charted departures from the English project of professionalising a particular kind of colonial subject."
Majumdar is at STIAS to complete his book titled The Amateur which poses questions around the amateur and professional in literary studies and the humanities. "Is a humanist intellectual with a popular audience more likely to be a credentialed expert or an autodidact? Is such an intellectual a professional or an amateur? My book considers these questions in light of the institutionalisation of a humanist curriculum across the British empire to examine the trajectory and oeuvre of a range of postcolonial thinkers whose provocative appeal derive from their positions as amateurs and autodidacts."
The amateur/professional relationship
He pointed to early inspiration from the 2003 book Academic Instincts by Majorie Garber which stressed the relationship between amateur and professional as an important intellectual debate. "Academic Instincts documents activities where amateurs are considered more appealing than professionals," said Majumdar. He highlighted politics "where currently there is a worldwide trend to distrust experts or insiders", and sports, with the most prestigious global event – the Olympics – technically reserved for non-professional athletes, and even the enduring charm of amateur detectives in fiction – "Sherlock Holmes still has more glamour and appeal than the actual police have".
"Obviously careers like lawyers and doctors need a heightened degree of professionalism but the public face of fields of study often seeks to cultivate an amateur appeal."
"In the arts there has always been a productive tension between professionalism and amateurism," he added, "neither overpowers the other and there is deliberate carelessness about the distinction. While amateur science is often a subject of parody, amateur acting or poetry is not. Amateur science is almost an oxymoron but this wasn't always the case. Science is something that has historically evolved from practical everyday experience."
"I love the word amateur. I find that it resonates with people, even though it has an aura of privilege and decadence about it, something I'm trying to undo in my book," he said. "It's rooted in love for what you do."
"What possibly distinguishes literary criticism is that it happens in the same medium as literature itself – unlike music or art."
'Amateur reading'
He described 'amateur reading' as about picking up a book and reading by accident or serendipity, often despite a gulf between the reality around the reader and that in the book. "I'm driven by inspired acts of reading especially in unlikely, unexpected conditions. Is ignorance as rich an aid to understanding literature as knowledge? As American literary critic Edmund Wilson said no two persons ever read the same book."
"English literature as taught in the colonies was seen as a nation-forming thing, the scaffolding of unity across empire with the goal of creating agents of empire. But bureaucratic or exclusionary structures of education inspired some exceptional individuals to become autodidactic learners and amateur thinkers, which later shaped their identities as popular intellectuals."
"My book focuses on the colonial literary intellectual as a figure for whom amateur discourse is a natural mode of thought, articulation and world-making. The institutionalisation of a literary curriculum marked the ideological enterprise of British rule in the colony," he explained. "This project considers a phenomenon at striking odds with this imperial enterprise to create a certain kind of professional. It seeks to read a group of South-Asian, Caribbean and African writers who emerge from their engagement with poor and provincial colonial and postcolonial educational systems as autodidactic and amateur intellectuals of wide public appeal."
This includes a range of leading colonial and postcolonial literary thinkers such as C.L.R. James, Nirad C. Chaudhuri, Toru Dutt, V.S. Naipaul, Jamaica Kincaid, Dionne Brand, Peter Abrahams, Es'kia Mphahlele, Lewis Nkosi and others.
"Such intellectual identities are at odds with colonial education's attempt to create a certain kind of a subject. Central to this amateur identity is the practice of 'poor reading', which captures the reading process of the disenfranchised reader who, located far from the original – usually metropolitan – context of the text, is singularly ill-equipped for the various modes of historical/contextualist reading that professional literary scholarship enshrines today."
He outlined the book chapters titled, 'Distant close readers and the colonial map of misreading'; 'Poor reading, weak theory' in which he will outline theories of reading, unconscious choices and failed reading; 'Autodidactic nation' which looks at the unique situation of education and literacy subjectivity in 20th century South Africa; 'Books, roots, past: searching, asking, reading in the Caribbean Islands' which highlights the reconciliation of the diasporic past with accidental readings; "The light and shadow of Empire: literary self-making in English India" where English literature study started as people actively sought Western education through reading and leading to the genesis of postcolonial literature; and, the concluding chapter, 'The violence of humanistic education in the postcolony'.
For his seminar he focused on the South African chapter from which he read extracts. He emphasised that from the mid-20th century with the exclusionary Bantu Education Act of 1953, a real education became inaccessible to many but that teaching was a career open to Black South Africans with many teachers later becoming activists and cultural critics.
"Most were on the margins of institutional education but they ceaselessly thought about teaching and learning. The idea was educate yourself and come back and take care of the community."
The authors he covers include Sindiwe Magona, Es'kia Mphahlele, Zoë Wicomb, Peter Abrahams, Lewis Nkosi and Njabulo Ndebele.
Asked why he is focusing on English specifically, he pointed out that for the British Empire school and church were the soft power of empire. "English as a language is also more fluid than some others, flexible, amenable to change, more global. I'm also from Kolkata – once the heart of the British Empire and its cultural and educational hub in the subcontinent.  It's my own intellectual legacy."
He also talked about how definitions of amateur and professional are changing in the digital age. "The Internet is a strange place with access to both expert and amateur. It makes extensive knowledge easily available but via unlicensed, untrusted sources."
Michelle Galloway: Part-time media officer at STIAS
Photograph: Noloyiso Mtembu