"It's transdisciplinary thinking through not so much about food," said Desiree Lewis of the Women's and Gender Studies Department at the University of the Western Cape.
"Critical food studies (which is humanities-oriented and very different from food-security studies) has been a rapidly expanding field, innovatively using food as an optic to explore areas including subject-constitution, semiotics and the politics of material culture. I've become increasingly interested in how food studies encourages discursive space-clearing, prompting transdisciplinary analysis with the potential to push back some of the boundaries in the South African humanities," she explained. "My current research deals with perceptions of the nexus of embodied subjectivities, affect and human/non-human assemblages, and I've become increasingly interested in the sensory and relational routes of knowing that attention to food can open up."
"Critical food studies is a growing and important field," she added. "It's not just food as a material resource. The humanities work builds on the philosophical base. It's not a trivial subject."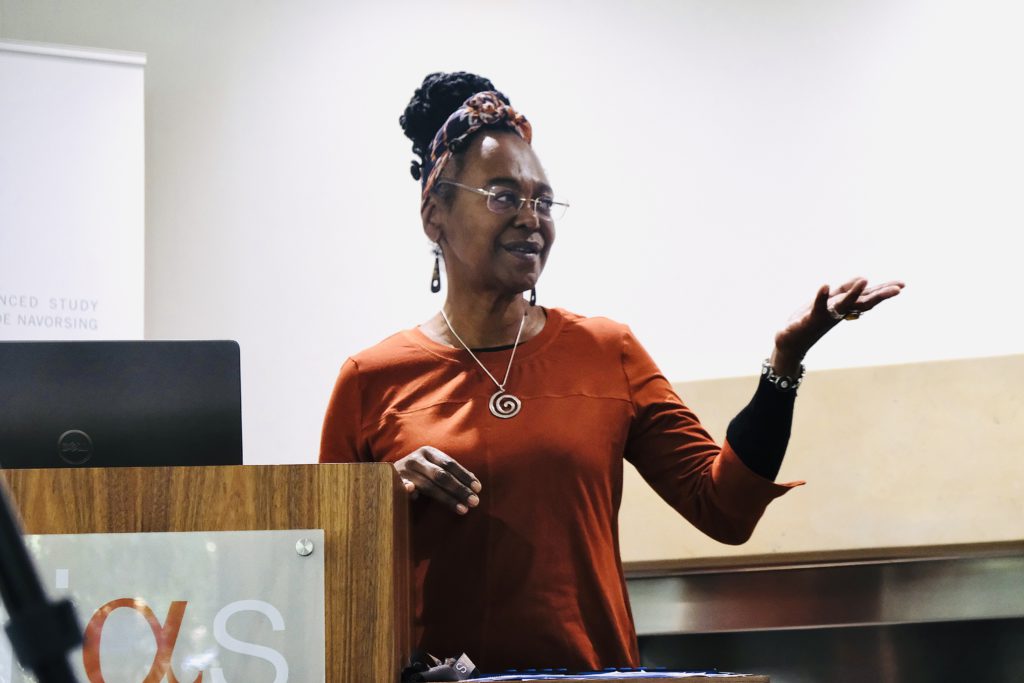 Lewis has received a grant from the Mellon Foundation to undertake a comprehensive look at the subject from various angles and with a transdisciplinary gaze. "Often in humanities the focus is on meaning making without attention to the deeper context. A transdisciplinary lens allows us to borrow from various disciplines, question what we hold sacred in our own disciplines, see and approach differently," she said.
"I'm influenced by feminist food studies scholars who, long before popularised writers like Michael Pollan, drew on autobiographical narratives, anecdotes, life histories, various visual and literary texts, popular and material culture, participatory and observational research. All the texts I deal with (two by South African novelists and one set involving the scholarly and practical work of two South African ecofeminists) are sharply alert to the visceral, semiotic, social and discursive meanings of food."
She emphasised that the work covers what food is and is not, its symbolic associations and ritualised meanings, as well as underlying cultural processes. She pointed to early work on sugar. "Sugar looms large as an image of colonial damage," she said, "maybe even more than cotton because it's still taking its toll in the present."
She also highlighted the explosion of critical food studies, documents, podcasts, books and even a Netflix series by Michael Pollen which has been criticised for watering down and not acknowledging the underlying academic work.
"There is an industry around critical food studies that is politically motivated. Knowledge production harnessed in the interests of the market and in line with a neoliberal agenda which is troubling."
Literary perspectives
As part of the work, Lewis will focus on two South African novels – J. M. Coetzee's Waiting for the Barbarians (1980) and Zoë Wicomb's October (2004).
Waiting for the Barbarians is regarded as one of Coetzee's finest works and described as a postcolonial critique. "It's believed to precede his 'food and animal-related' later novels, although I argue that representations of food procurement and subject acquisition as well as the politics of human relationships to food are central to this author's allegorical reading of imperial 'being'."
Although there are many interpretations of the novel including its obvious links to the violent uprisings in South Africa in the 1970s, Lewis is interested in analysing the ideas of objectification and human relationships to food. She explained that the novel outlines the different ways different groups acquire and relate to resources, the politics and ethics of food and the role of elaborate eating rituals as the basis of hierarchical difference.
For the Colonists in the novel land exists for their domination. For example, they store large amounts of food in the Granary, and this anticipates certain groups' fixation with accumulating surplus, so it shows their proprietary attitude and failure to acknowledge the authority of the earth and its resources. By contrast, the Barbarians are fisherfolk or nomads. Their use of resources is regulated not extractive. They don't lay claim but acknowledge that humans belong to the land.
She also pointed the descriptions of hunting – "the compulsion to conquer creatures and species dominance, with attention to violence and the subduing of inferior lifeforms, highlighting those who kill to eat and those eaten".
Even some of the torture scenes – Coetzee's attempt to describe what was happening in South Africa – involve cooking imagery including a scene where a Barbarian girl is blinded with a hot fork – depicting mutilation of one human by another without political logic.
Lewis described Wicomb's book October as providing a postcolonial feminist perspective depicting the relationship with an imagined postcolonial home through the language of food.
"Food, cooking and eating are intricately entangled with this writer's efforts to speak back to centres that reproduce the othering of certain humans, non-humans and the earth."
She explained that it explores food as a way to define status, ourselves and our sense of value.
The main character 'escapes' a postapartheid, postcolonial South Africa but remains haunted by a desire for home and simultaneously drawn to and repelled by the tastes and smells associated with home.
The book presents food as a gendered, political, cultural and existential issue. Lewis explained that it explores the anxiety of a cosmopolitan identity in relation to South Africa – "anxiety about contamination conveyed by food smells as well as fabricated memories of smells because actual home smells are tainted" while at the same time allowing one character to speak back through the language of food.
"I'm interested in particular texts, threads and topics including othering, hierarchies, post-colonial and decolonisation issues – these novels speak to that."
Black South African ecofeminist knowledge-making through food
"In turning to the work of two South African ecofeminists, Yvette Abrahams and Pat McFadden, I reflect on how their practical work – as organic farmers – alongside their writing restlessly searches for socially just and relational ways of being in the face of colonial, anthropocentric and masculinist dualisms. As postcolonial ecofeminists, Abrahams and McFadden depart from post-humanists and new materialists in the North. Moreover, their outlook cannot be conflated with what is often essentialised and flattened as indigenous knowledge-making and epistemology."
In this study, Lewis will explore topics including being human and being human relationally; doing and thinking; human body anthropomorphism, the ethics and politics of veganism; geopolitical
gendered and racialised positionalities and knowledge production; and, philosophy. This includes looking at their perspectives on ecocide; debates around feminism and veganism; and, the metaphysical relationship between humans and the natural environment.
"It's about uncovering South African feminist theories and new knowledges that are made by doing. For example, the debate about veganism is interesting. Abrahams believes eating meat is not inherently problematic but that our relationship with animals is institutionalised and bound by social conventions."
Lewis also emphasised that she is very conscious of the geographical location of these thinkers. "South Africa has historically been seen as a zone at the bottom of the earth and at the bottom of the hierarchy of being, with black women at the very bottom. It will be my challenge to make sense of how and why Abrahams and McFadden draw on particular sources and knowledges."
"This work is difficult for me," she added. "It's new and explorative but I'm determined to do it. They have done extraordinary work. My aim is to look at their body of work and to approach it as text which is my comfort zone."
"Overall, my engagement with all the texts traces the processual nature of postcolonial knowledge-making that seeks to challenge 'the coloniality of being'."
Michelle Galloway: Part-time media officer at STIAS
Photograph: Noloyiso Mtembu