Law, social change and institutional imagination
"Conceptually, the challenges posed to institutional imagination are central: formal law over time entrenches institutions and interpretative habits that lock in specific developmental orientations. Thus, even where shared value-commitments shift towards more holistic and sustainable economic practices, the underlying legal infrastructure of collective institutional life embeds path dependency and preserves the 'drag' of inbuilt commitments to ecologically damaging ways of life," said Bronwen Morgan, School of Law, Society and Criminology at the University of New South Wales, Sydney. "But countering this, the book I have begun at STIAS aims to track productive links between formal-legal instrumentalism and the presence of pluralistic, collective forms of lawful life, mining them for signals of a new kind of civic law, neither private nor public, that braids together cities, local economies and bioregions into fractal patterns of translocal linkages."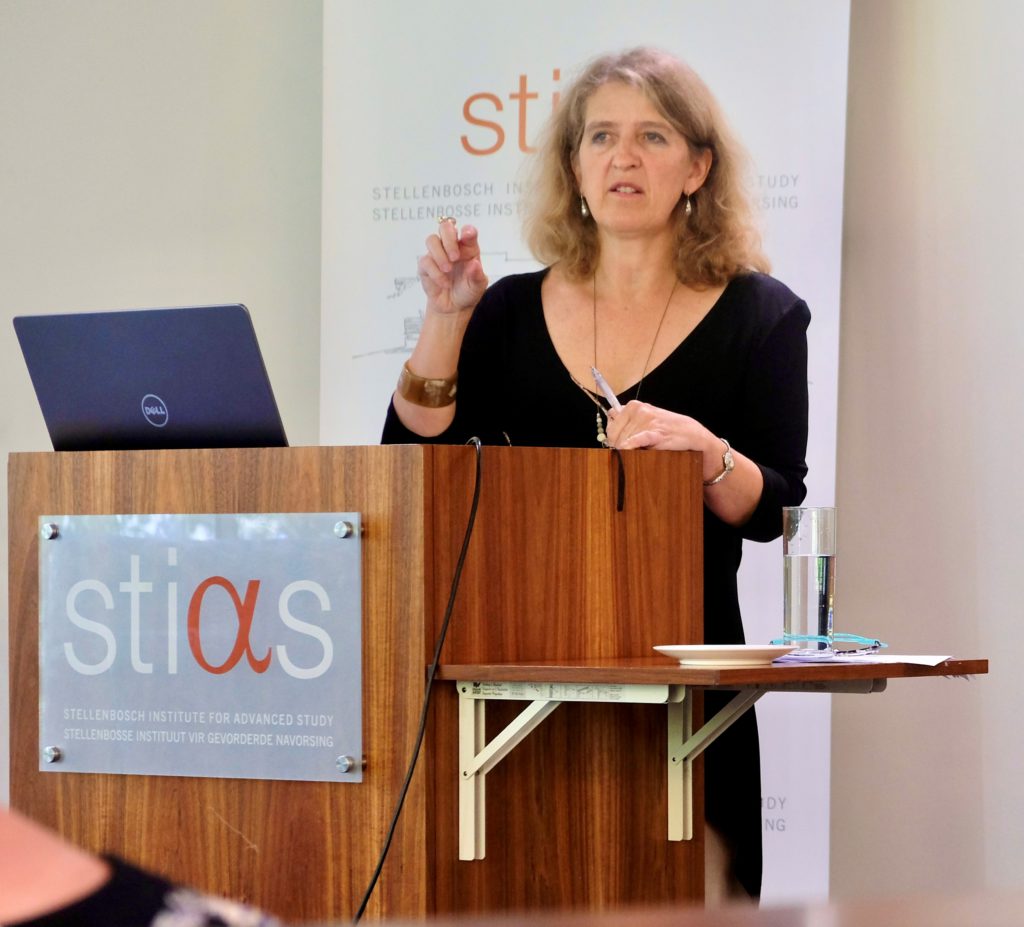 "The perfect place to write it is here at STIAS with its institutional culture of place, time and care. The conscious holding of space here is so active. It creates an experience of elastic time I had forgotten existed."
Morgan described herself as having been a scholar of regulation and governance for over half her career. "But rights issues troubled that, and I moved into a quest for law and social change." Her current research explores creative ways of reimagining the economy to respond to contemporary challenges, including innovative ways of sharing the ownership and governance of digital platforms, and distributed participatory approaches to providing important infrastructure such as energy, food and water. She is a co-founder of the New Economy Network of Australia.
Using the imagery of a water drop – water having been the sector she has engaged with most – she traced her academic path into this field alongside the journey of increasing government entry into private-sector management and the clash with human rights (leading to constitutional litigation in countries like South Africa and Bolivia) and, to some extent, a global stalemate between politics and governance in the management of natural resources.
She explained that in many areas there were early attempts to resolve the tension between radical governance and law and regulation by paying more attention to rights. The water issue, as one example, led to intense struggles on the ground outside of the courtroom.
"When water was framed as a human rights issue, it became a heated political issue and the role of litigation was very contested. There were also interesting ways in which people acted as if they already had legal power notwithstanding a deep loss of faith in the formal structure of law. Rights struggles sparked difficult questions about whether law was leading social change or social change leading law."
Morgan's own involvement in grassroots initiatives – including community-supported agriculture and environmental activism as well as receiving funding to explore case studies in the space between social activism and social enterprise – continued to cement her interest. It also made the growing limitations of the field clear and highlighted that a different approach was needed – one that included critical theory and a move away from siloing.
This has expanded into an emergent field of critical and sociolegal scholarship – which Morgan and colleagues call prefigurative legality. This describes efforts to use the language, form and legitimacy of law to imagine law otherwise, and to use direct actions rather than appeals to courts, legislators, or state officials which, they believe, holds the potential to reimagine legal forms.
"It's about trying to make rights and regulation speak to each other. Bringing together law and prefigurative politics in the hope of creating the kind of society people would want if powerful institutions didn't exist. Building on legality not only existing in formal institutions but in living practice that operates between people."
Overall, she outlined three approaches to law and social change – the first privileging the constitution of social order over dynamics of change, approached through the lens of regulation and governance. The second exploring the dynamics of change in the context of methodological debates over causality, the importance or not of courts and litigation, and the relationship between rights and political economy. And the third taking a sideways step to reframe some of the assumed dichotomies underpinning the first two, taking notions of prefigurative legality as its entry point.
"All three in different ways engage my key interest with questions of institutional imagination: the ability to weave rules, entitlements, principles and organisational design into stable, responsive and creative structures that constitute and stabilise our collective lives – but also inject energy, flow and movement into them," she explained.
Regenerating the sharing economy
Her book project begun at STIAS, which she described as "situated at a (possibly uneasy) intersection of the second and third of these traditions", will be constructed around keywords namely – platform, sharing, value, place, care and time – each forming the basis of a chapter, and will include vignettes based on interactions with people on the ground.
"My path is about using political economy as an alternative to a rights-centred focus," she said. "The entry point is to look at the practice of communities, solid evidence, and playing with formal law."
She pointed to Janelle Orsi's book Practising Law in the Sharing Economy as an important influence.
Morgan's book will look back at the early days of the so-called sharing economy in Australia and the United Kingdom a decade ago. The sharing economy, which emerged in the wake of the 2008 financial crisis, initially involved short-term, peer-to-peer transactions around sharing assets and services or facilitating collaboration involving online platforms. The most well-known examples are Uber and Airbnb. The concept has grown rapidly, and consequently faced significant challenges in the form of regulatory uncertainty and concerns about abuses.
Morgan believes that the early days of the sharing economy can provide a fascinating window into the possibilities of (and constraints upon) moving away from this extractive trajectory and opening up possibilities for more regenerative pathways.
"The sharing economy opened up ways to rewire economics and society but it became extractive," she explained. "Ten years on, the sharing economy narrative might need to be regenerated."
"The initial optimism was premised on the assumed centrality of values – like life, liberty and happiness – but it underestimated the power of and commitment to cost, comfort and convenience which has eaten into the infrastructure of collective institutional life."
Morgan believes that our appetite for a bold economic approach is now stronger and we need to define a regenerative economy that brings to life the dynamic of formal institutions and living law but also moves us away from a growth-addicted society.  She particularly pointed to environmental concerns as being separate from key decisions of economic design rather than the basis of such decisions. "We need to look at embedding the economy in questions of society and environment."
"I hope to chart some of the possible forms and practices, and how the interplay and imaginaries between formal institutions, norms and lived experience could play out."
Michelle Galloway: Part-time media officer at STIAS
Photograph: Noloyiso Mtembu