Language art.  Word-play. Interdisciplinary. Archive.
Willem Boshoff as conceptual artist.
"I make things. Reify – from the Latin res, re- meaning "thing" – aiming to make the abstract real. I take a thought, an idea, and make something," explained STIAS Artist-in-Residence Willem Boshoff during his presentation of his work on 14 September.
"As a conceptual artist focusing primarily on words and how we use language, I have been pursuing models of thought and knowledge production for many decades."
"At STIAS I'm hoping to pick minds – and these are some of the finest minds I've ever had to pick!"
Artist, sculptor, poet, teacher and writer of dictionaries, Boshoff offered STIAS fellows a glimpse at his creative world and the processes and ideas behind his works.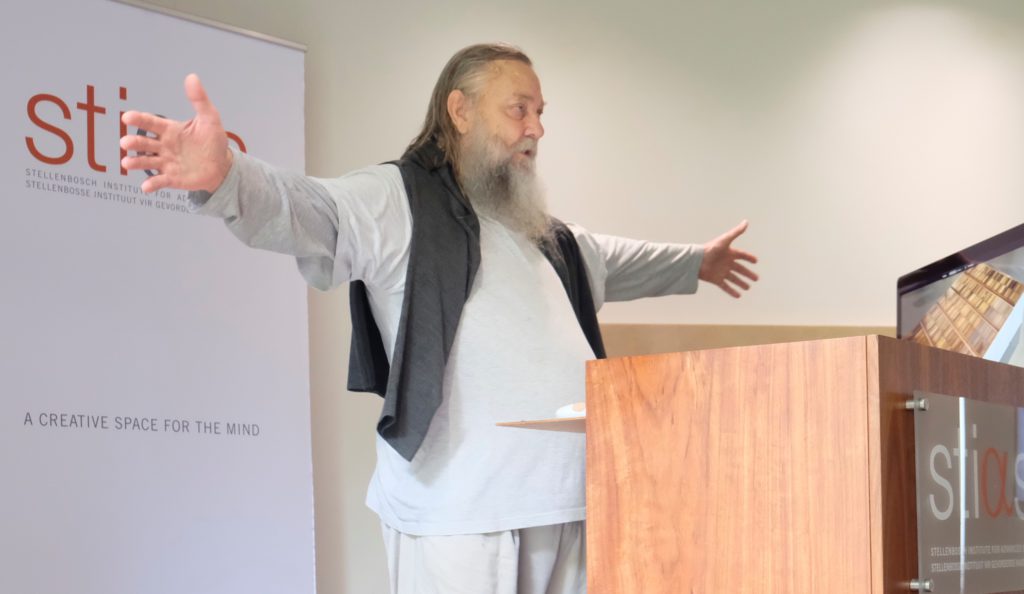 Originally inspired by his high school art teacher, Henrie Pretorius and his father, Martiens Boshoff, from whom he learnt the exacting discipline of carpentry, a young Boshoff decided to become a sculptor at the age of 15.
His first exhibition was presented at the Johannesburg Art Gallery in 1981. Some of his best-known works include an anthology of concrete (visual) poetry titled KYKAFRIKAANS (1980) and a three-dimensional dictionary entitled The Blind Alphabet Project (1993 and ongoing, with to date up to 500 words sculpted and defined). Writing in the Sand (2001) engages with the status of South Africa's official languages and the Garden of Words series (in progress since 1982) speaks to ecological issues. To view these works and for a sense of Boshoff's prolific body of work, see Artworks at www.willemboshoff.com.
Boshoff's work has been shown in South Africa and internationally, notably at the Johannesburg, São Paulo, Venice and Havana Biennales and is included in the permanent collections of the National Museum of African Art at the Smithsonian Institution in Washington DC and at Yorkshire Sculpture Park in Yorkshire, UK. At the Triennale für Kleinplastik in Stuttgart he was awarded the Ludwig Giess Prize. His work has also been exhibited at the Museo Nacional, Centro de Arte, Reina Sofia, Madrid; the Museum Boijmans van Beuningen in Rotterdam; the White Box Gallery, New York; Museum van Hedendaagse Kunst Antwerpen; Galerie Asbæk in Copenhagen, Sonsbeek Internationaal, Arnhem, The Netherlands, and under Art Unlimited at the Basel Art Fair.
A practicing artist since the 1970s, Boshoff is also a respected and innovative teacher. He is currently Professor at the Department of Fine Arts at the University of the Free State and during the 1980s and 90s was head of the Department of Fine Art, Technikon Witwatersrand (now the University of Johannesburg), from where he holds an honorary doctorate. He regularly acts as external examiner in the fine art departments of amongst others the Universities of Stellenbosch, Cape Town, Pretoria, the Free State and Rhodes.
While at STIAS, Boshoff will continue his research on the divination practices of Europe and Africa first explored in an installation work titled Index of (B)Reachings (2000), as exhibited at the Urban Futures conference and exhibition at Museum Afrika, Johannesburg, in 2000. The work comprised an installation with substances and processes used by diviners and healers such as shamans, druids, babaláwos and sangomas. A three-dimensional dictionary of divination, with its pages laid out as rectangles on the floor and walls, visitors to the installation could walk around inside this dictionary as they engaged with the ideas on divination it presented.
The current aim is to develop a richly illustrated publication, an artist's book, which will also provide an index of divination practices, present the nomenclature of documented practices of divination and demonstrate similarities in the historic and current divination practices of Europe and Africa.
"Divination was outlawed in Europe," clarified Boshoff, "but it is practiced still with affection, understanding and passion in Africa. I'm looking at some of the texts of the Ancients and how many of their bygone practices are still alive and relevant in most of Africa."
Focusing on the motivation his work as a conceptual artist, Boshoff described his fascination with the idea and function of text. "Text, began as stippled, wedgeshaped marks on clay, about 3500 years ago in Mesopotamia. Such writing is called cuneiform – in Latin cuneus is a wedge. Egyptians developed hieroglyphics for their own inscribed alphabet – hieros meaning sacred, and glyphe meaning carving. In ancient Greek times early forms of writing resembled a phenomenon named boustrophedon – lines run backwards and forwards, much like the furrows ploughed on a field with an ox, bous meaning ox and strophe meaning to turn. In Roman times writing was refined into something that, at first glance, resembled a woven cloth. It is referred to as text, after the word textile – in Latin texere means to weave. The lines of written text, one could say, become the yarn and weaving of a cloth on a loom."
The concept of boustrophedon was the inspiration for Boshoff's 2003 KYKAFRIKAANS visual poem Between Heaven and Earth, which he jokingly describes as "poetry to make you dizzy".
Boshoff's early fascination with words was cemented with his reading of the full Oxford English Dictionary, cover to cover. This Herculean task took four years and has since led him to the compilation of 15 dictionaries of his own, the latest being the 2022 Ampersand Foundation publication, The Oh No! Dictionary – "a dictionary of ostentatious words, presenting perplexing English to the English".
Art of purpose
Identifying himself as a pacifist, Boshoff's artworks have resonated with strong socio-political messaging – ranging from referencing South African struggle songs sung during the schools' uprising of 1976 in the work Abamfusa Lawula – The Purple Shall Govern (1997) to protesting the 2003 Iraq War in his work Crusade of 2011 and protesting contemporary Eastern European wars in Fighting for Peace of 2018.
In 2005, incidentally, the advertising agency Ogilvie International was commissioned by Exclusive Books at Hyde Park Centre in Johannesburg to design a poster based on the work, Abamfusa Lawula – The Purple Shall Govern (1997) for the launch of the David Krut Publishing book Willem Boshoff, a monograph on Boshoff's work written by acclaimed novelist Ivan Valdislaviç.  The advertising campaign and the poster generated for it was awarded a Golden Loerie Award.
"People who hate my politics do buy my work," commented Boshoff. "My works might be against a particular way of thinking, but my fight is with the thinking, not the people who think that way!"
Willem Boshoff loves plants and during his residency, camera in hand, he has enjoyed encountering and documenting the wealth of fynbos in the STIAS gardens, in the neighbouring Jan Marais Park and at Fernkloof Botanical Garden in Hermanus, nearby. This long-term passion and his concern for environmental change and the imminent threat to biodiversity has led to an ongoing series of works titled Garden of Words I, II and III. As commemorative word-gardens of the botanical names of living plants are installed to create awareness of those threatened with extinction. The series started with 10 000 plant species in the early 2000s and has now expanded to 30 000.
In his presentation Boshoff also referenced arguably his most well-known work, The Blind Alphabet Project (1993 and ongoing) – a three-dimensional morphological dictionary with the entries being sculptural interpretations of obscure words, hidden from the sighted gallery visitor inside a veritable graveyard of austere wire baskets. "This is the only art exhibition I know of where blind people guide the sighted, upending the usual privilege and power of the sighted in a gallery context," he observed.
Asked about his creative process and how he has managed multiple projects over so many years, Boshoff said: "As an artist, I do what I do. And I've been doing it for a long time! I like messing around with my thoughts. It's all about mind management, finding ways to think and to get these creative ideas out."
"You can't relive the past and I certainly never want to rehash ideas I've dealt with before. I want to do new things, always," he added. "I don't discount anything, either. I rethink. I don't force ideas, but eventually come to an answer. You just have to wait for the right time."
Michelle Galloway: Part-time media officer at STIAS
Photograph: Noloyiso Mtembu