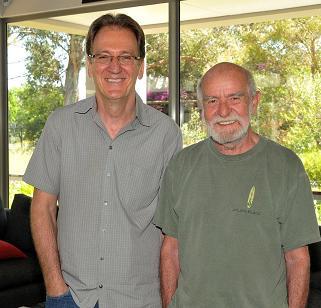 Writer Ivan Vladislavic and playwright Athol Fugard — Artists in residence at STIAS in 2012
Renowned South African playwright, director and actor, Athol Fugard, has been named the theatre and film laureate for the 2014 Praemium Imperiale arts prize from the Japan Art Association. He becomes the first African winner since the award's conception in 1989.
Fugard is a permanent visiting fellow of STIAS and will continue work on his autobiographical novel Dry Remains during a STIAS fellowship from September to December 2014. During previous periods of residence at STIAS he completed Die laaste karretjiegraf [The last Karretjie ("donkey cart") grave], his first ever play written in Afrikaans. He also directed its first performance at the Cape Town Fugard Theatre in 2013.
Athol Fugard is one of five laureates of this year's Praemium Imperiale awards which are given in the fields of architecture, music, painting, sculpture, and theatre/film. The other 2014 laureates are American architect Steven Holl, Estonian composer Arvo Pärt, French artist Martial Raysse and Italian sculptor Giuseppe Penone.