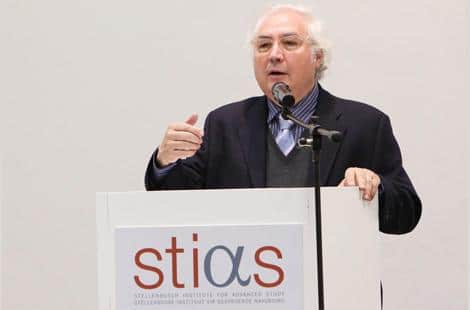 A highlight at STIAS and in Stellenbosch this year was a public lecture early in June by renowned sociologist Manuel Castells who, among other things, cast light on the recent rise of social movements across the globe.
Looking back at that lecture now provides useful context to what should surely be considered one of South Africa's major low points for 2014 – a record number of service delivery protests. By the end of October, that figure already stood at 176, according to Municipal IQ, surpassing the 2012 peak of 173 with two months to go.
This resonates with something pointed out by Castells: "In the world at large, there is an increasing disconnection between citizens and their governments, even in democratic states. But people don't necessarily have answers. So, they vote for whomever, they develop new social movements, they explode."
Castells is Professor of Sociology and Director of the Internet Interdisciplinary Institute at the Open University of Catalonia in Barcelona. He is also a Permanent Visiting Fellow at the Stellenbosch Institute for Advanced Study (STIAS).
"In the field of communication, he is the most cited academic in the world," Director of the Centre for Higher Education Transformation (CHET) Nico Cloete said when he introduced Castells.
Castells spoke on "Reconceptualising Development in the Global Information Age", which is also the title of a new book edited by him and Pekka Himanen (published by Oxford University Press).
In his lecture, he pointed out that there has been good economic growth in emerging economies the past few years. This has been accompanied by substantial advances in human development as measured by such "objective" indicators as education, health, infant mortality, life expectancy, sewerage and water.
However, "quality of life" has not improved for most people. To the contrary, there has been "a massive deterioration of the subjective conditions of life – violence, fear, destructive metropolitan areas in terms of housing, transportation, pollution, etc."
Despite a "massive expansion of wealth" the world over, this is "increasingly concentrated" in the hands of a few, with the result that "huge inequality is increasing" even though "statistically defined poverty has diminished in most areas."
According to Castells, "We are improving human development, but moving towards inhuman development."
As examples, he mentioned torture and illegal imprisonment, discrimination, slavery, political rights not being enforced, freedom of expression being taken away when it suits rulers, multiple wars across the globe despite supposed peace, rampant organised crime, and a resurgence of racism and xenophobia.
"Measured by these standards, where is human dignity?" he asked.
"We are going backwards. The principles of dignity are enshrined in law, but the practice is only enshrined when people are able to resist the negative trends in society."
Resisted the people certainly did – and not only in South Africa. Following the Arab Spring of 2010/11, the Indignados Movement in Spain and the worldwide Occupy Movement of 2011/12, there were also major protests the last two years in Brazil, Germany, Greece, Hong Kong, Hungary, Kosovo, Malawi, Russia, Turkey, Uganda, the UK, Venezuela, Vietnam and Yemen – to name but a few.
Castells spoke of a "wave of social movements in which hundreds of millions of people in over 100 countries in the wold, over 500 cities in the world have been protesting, camping, marching, organising and speaking out on the internet."
He said, "We have entered a period of historic transition in which people resort to the oldest form of social change in human history. They say, 'OK, we take it into our own hands, we confront the institutions, we try to solve the problem ourselves'."
Who is to blame for "the problem", according to Castells? The very institution that is driving the new wave of development sweeping emerging economies upwards – the state.
"States require major transformation because in the main they are inefficient, bureaucratic and corrupt, even predatory."
Castells argued that advances in Information and Communication Technology (ICT) are making it easier for people to organise themselves and press for change.
"About 3 billion in the world now have access to the internet. And there are about 7 billion mobile phones. So, we have a global network of communication that can mobilise and construct spaces of autonomy from where societies change themselves."
But, "[t]he notion that we are in an information and knowledge economy is absolutely misleading."
"It is not because information and knowledge are not import. But it has always been important, in fact, absolutely critical for the generation of wealth and power. What has changed is something called the ICT revolution. Technology affords us the possibility of effectively processing information."
Castells referred to a study published in Science, which found that in 2002, 52% of the information on the planet was digitised. In 2007 it was 95%, and now it is 98%. "And the vast majority of this information is accessible by via the internet and other computer networks."
However, its not technology per se that matters. "The important thing is the human mind – where knowledge is embodied. It has to be up to managing this increased flow of information, generating knowledge from it, and implementing it in different domains of human activity.
"That's what the technological revolution means. Not just that there is information, but that information can be recombined, developed, accessed and utilised on a global scale.
"The whole planet is interconnected, which means what is valuable for some members is connected, what is not, is disconnected."
According to Castells, dividing the world into categories of "developed" and "underdeveloped" and "developing" countries "does not work."
He said the world is "not characterised by core and periphery, but by networks in which everything is connected, and which both include and exclude."
"Everything is connected, but much is disconnected. And whether you are considered 'developed' or 'underdeveloped' or 'developing' depends on where you are in which network at which time and how and why."
Author: Desmond Thompson
Photo: Anton Jordaan
The Castells lecture was co-hosted by STIAS, CHET and the new Centre of Excellence in Scientometrics and Science, Technology and Innovation Policy at Stellenbosch University.