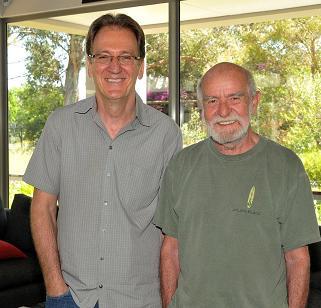 Ivan Vladislavic and Athol Fugard – artists in residence at STIAS in 2012
The South African author Ivan Vladislavic, who spent six months as Artist in Residence at STIAS in 2012-2013, was recently awarded the Yale University's 2015 Windham-Campbell Prize for fiction.
The $150,000 prizes (each) were established in 2013 by novelist Donald Windham and Sandy M Campbell to call attention to literary achievement and provide writers with the opportunity to focus on their work independent of financial concerns,.   Awards are made to English language writers at all stages of their careers from anywhere in the world. Writers can be nominated for outstanding promise or for a body of work. There is no submission process, and winners are determined by a global group of invited nominators, a jury in each category, and a selection committee.
Ivan Vladislavic is the only South African to win this year. Other winners in fiction are Teju Cole (Nigeria/US) and Helon Habila (Nigeria); in non-fiction, Edmund de Waal (UK), Geoff Dyer (UK), and John Jeremiah Sullivan (US); and in drama, Jackie Sibblies Drury (US), Helen Edmundson (UK), and Debbie Tucker Green (UK).
In the citation read at the announcement of the prize-winners, Vladislavic's fiction was commended for its exploration "of the aftermath of apartheid through inventive meditations on the complex intersection of history, politics and art." The prizes will be conferred at a ceremony and literary festival that will take place at Yale University in September 2015.
Vladislavic has published two collections of short stories Missing Persons (1989) and Propaganda by Monuments (1996). He has also published the novels The Folly (1993), The Restless Supermarket (2001), what the author calls a novel in four parts, The Exploded View (2004) and a novel with photographs by David Goldblatt TJ & Double Negative (2010). He also published The Loss Library in 2012, in which he examines lost fictions, stories that are never completed.
He has won numerous literary awards in South Africa amongst which the Sunday Times Prize for Fiction for The Restless Supermarket and both the University of Johannesburg Prize and M-Net Literary Award for Double Negative. His work Portrait with Keys: The City of Johannesburg Unlocked (2006) won the both the Alan Paton Award for non-fiction and the University of Johannesburg Prize.
Vladislavic was recently appointed a Distinguished Professor at the University of the Witwatersrand.