Ian Goldin, Donald Gordon resident fellow at STIAS in  2017 and 2018, has accepted a nomination as Permanent Visiting Fellow of STIAS; he joins a select group of fellows who "have an open invitation to work at STIAS whenever they can."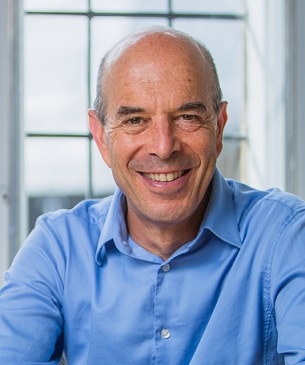 In accepting his nomination Goldin, who was born in South Africa and educated here and in the UK (holding BSc and BA Hons degrees from the University of Cape Town, an MSc from the London School of Economics and a DPhil from the University of Oxford) referred to his current role in a major new research programme at the Oxford Martin School where he directs the  Programme on Technological and Economic Change, adding  that he foresees "that this work programme, together with a number of other initiatives I am engaged in, including a global panel on the impact of technological change on developing countries and particularly Africa, will provide a strong foundation for my work at STIAS over the coming years."
During his decade as Director the Oxford Martin School established 45 programmes of research, bringing together more than 500 academics from across Oxford, from over 100 disciplines, becoming the world's leading centre for interdisciplinary research into critical global challenges.
From 2003 to 2006 he was Vice President of the World Bank, and prior to that the Bank's Director of Development Policy (2001-2003). He served on the Bank's senior management team and led the Bank's collaboration with the United Nations and other partners as well as with key countries. As Director of Development Policy, he played a pivotal role in the research and strategy agenda of the Bank.
From 1996 to 2001 he was Chief Executive and Managing Director of the Development Bank of Southern Africa and served as an advisor to President Nelson Mandela. He succeeded in transforming the Bank to become the leading agent of development in the 14 countries of Southern Africa. During this period, Goldin served on several Government committees and Boards, and was Finance Director for South Africa's Olympic Bid.
Previously, he was Principal Economist at the European Bank for Reconstruction and Development (EBRD) in London, and Program Director at the OECD Development Centre in Paris, where he directed the Programs on Trade, Environment and Sustainable Development.
Goldin has received wide recognition for his contributions to development and research, including having been knighted by the French Government and nominated Global Leader of Tomorrow by the World Economic Forum. He has published over 50 articles and 21 books. He is the presenter of the BBC World Service and Radio 4 series After the Crash and lead author of Migration and the Economy: Economic Realities, Social Impacts and Political Choices.
During his residence at STIAS in 2017 and 2018 Ian Goldin's work dealt with Interdisciplinary approaches to meeting long term challenges. STIAS Director Hendrik Geyer expressed his delight at Goldin's acceptance of the nomination to join STIAS as Permanent Visiting Fellow: "He brings a wealth of knowledge and experience in interdisciplinary programmes to STIAS and we particularly look forward to work with him on the impact of technological change in Africa."