"The World Health Organization estimates that up to 10% of all medicines globally could be falsified but as much as 30 – 70% could be found in lower-income countries compared to only 1% in higher income. Some countries, including South Africa, don't report to the WHO's alert system.We therefore don't know much about the South African situation yet – we are hoping this research will tell us more," said Susanne Lundin of the Department of Arts and Cultural Sciences at Lund University, STIAS fellow and project leader. "The project focuses on falsified medicines – a growing health problem affecting every region of the world. The falsifications have been identified in all major therapeutic categories and falsified medicines range from mixtures of toxic substances (including corn starch, heavy metals, brick powder, amphetamines, ink or wall colour) to ineffective products that don't contain the active ingredients indicated on the packaging. They can result in treatment failure and death. It's illegal and criminal but the turnover is more than for regular drug trafficking."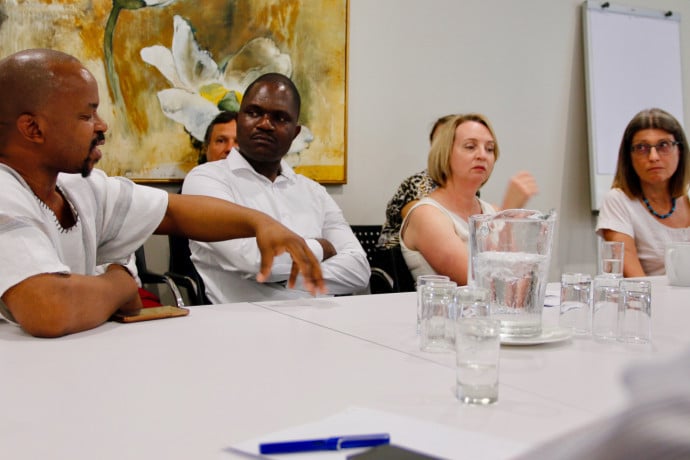 Members of the Falsified Medicine project, from left Thumakele Gosa, Paul Khambule, Elmi Muller and STIAS fellow Susanne Lundin during their seminar presentation on 25 October 2018
She pointed to a 2014 case in Congo where 1000 people were stricken with muscle paralysis – linked to falsified medicines which had supposedly come from a safe source.
"Often low-income countries are dependent on external funders donating medicines. Some countries have allowed substandard drugs to be donated to other countries although this is changing."
She also pointed to the lack of awareness and legislation, as well as the fairly low penalties including fines and minimal prison sentences that are meted out to offenders, as a major part of the problem.
The project, which involves Swedish and South African collaborators, aims to do three things: examine the socio-cultural mechanisms and medical processes that make the market of falsified medicines work; conduct sparse sampling to evaluate the extent of falsified drugs; and, raise awareness and provide a basis for recommendations about new practices in healthcare, in non-governmental and legislative institutions.
"There are very few socio-cultural studies in this area," she continued. "The idea is to know more about the end users of these products."
Three studies are under way by the Swedish team which involve surveying physicians and the public, as well as the development of awareness-raising products including a children's comic book.
The South African side has commenced with a pilot study in Khayamandi, a township in Stellenbosch, which aims to examine the socio-cultural mechanisms of the use of falsified medicines and to raise awareness.
"We are doing fieldwork to try to establish the understanding around and extent of the problem in a poverty-stricken township in South Africa," said Thumakele Gosa, of Imbila Strategic Services Pty Ltd, and Imbadu Group, non-profit organisations from Khayamandi. "There is a need to delve into the community and see what they understand about this problem. There are many diseases in this setting. People need good-quality medications, but can't afford them so they will easily use what is available and affordable."
"With affordability being a barrier to good and timely healthcare in South Africa, it is likely that accessing cheaper – potentially falsified medication – is a real problem in our setting." added Anja Smith of the Department of Economics at Stellenbosch University.
The pilot study interviewed 41 respondents. Preliminary results indicate that only 55.3% said they knew the difference between prescribed and non-prescribed medication, but 52.5% said they knew it was not safe to buy medication from non-formal places (like markets, the internet, etc.) and almost 85% said they accessed medication only from formal channels like pharmacies and clinics.
"Factors respondents considered when purchasing medication included the manufacturing country, the language and the packaging, and whether they had ever heard of the medication," said Smith.
"But it's hard to get people to open up," added Gosa. "They want to know what's in it for them. Things are also further complicated by the fact that most of the population are Christians and, for some, that makes use of traditional medicine in our setting a private matter, with many people not comfortable to indicate that they consult and make use of traditional healers and remedies. The questions that the respondents were asked aimed to establish and understand where they go when they feel sick. Very few people indicated that they would consult traditional healers or make use of traditional remedies."
"Because the study focused on establishing and understanding the extent to which Khayamandi people know about and understand the prevalence of falsified medication it inevitably resulted in other critically significant questions – such as how do you determine fake traditional medicine or not?; and, is there an officially recognised regulatory structure that regulates traditional medicines?" Gosa continued.
"Traditional medicines are not regulated," added Elmi Muller, a transplant surgeon from the University of Cape Town. "There are no standards – so it's hard to understand what might be fake."
"People in communities use both traditional and conventional medical care," said Paul Khambule also one of the Lokxion Foundation and Imbila Strategic Services Pty Ltd leaders from Khayamandi. "If the person gets better then it's assumed that the traditional healer or conventional doctor they visited is legitimate and that information will spread quickly via informal networks."
"While there are very limited formal networking platforms, we need to understand the role of informal networking and information sharing in communities," added Gosa. "There are many informal communication structures in a community like Khayamandi – stokvels, women's and religious groups – and these play a role in disseminating both good and bad information on health issues."
Healthcare as a commodity
Besides the economic reasons why people might need to access cheaper medications there are also issues related to stigma around the disease or condition being treated as well as growing distrust of the medical profession.
"Viagra is commonly falsified," said Lundin. "You can buy it online for $1 compared to by prescription at $15 but the advantage is also not having to discuss embarrassing issues with a health professional."
"But what we have found in Sweden is that it isn't only stigma that makes people buy online. There is also the sense of taking responsibility for your own health, of seeing health as a commodity that can be purchased. There is also declining trust in doctors and rising trust in the internet. We think the findings will be similar here."
"There is a growing tendency among patients anyway to 'test' the doctor by going to the internet," said Muller. "Many doctors are not aware of the extent of the problem. It's important to get professionals to buy into the research."
And the problem of falsified medicines doesn't just affect individuals but has a substantial impact on the healthcare system.
"For example, there is a big market in fake anti-malarials," said Muller. "Many of these in areas where malaria resistance is growing – this could be a major factor in the creation of resistance. We tend to assume that resistance develops because people are not compliant with medication but it may also be due to them not receiving effective drugs. This could be the same with anti-HIV drugs."
"Generics are also a big issue," she continued. "These are usually only tested for compliance in the initial development stages – no one is monitoring their ongoing compliance and manufacture."
Turning to the complications of the supply side, Lundin pointed out that the main producers of fake medicine seem to be in China, India and Pakistan but it is a complex area to research requiring collaboration with organisations like Interpol. "Interpol undertakes Operation Pangea in which they monitor shipments coming via customs into countries for a week a year – literally thousands of fake drugs are seized."
"With so much money involved it's also a dangerous area to research," she added.
Michelle Galloway: Part-time media officer at STIAS
Photograph: Christoff Pauw