"The world trading order has come under stress in the last years. Although many assign this to the election of Donald Trump as 45th US President, the roots are deeper. Soon after the Doha-Round had been initiated, the multilateral negotiations stalled. As a consequence, World Trade Organization (WTO) members eager to further reduce trade barriers resorted to regional trade agreements and some of the larger members started to negotiate so-called mega-regionals. The global financial crisis from 2008 onwards added to this unfortunate tendency. In its aftermath, trade dropped dramatically, many jobs in the manufacturing sector were lost, the European Union (EU) also experienced crisis, and governments increased trade barriers again," said Andreas Freytag of the School of Economics and Business Administration at Friedrich Schiller University of Jena and STIAS fellow. Freytag was attempting to disentangle some of the causes of the current challenges for global trade.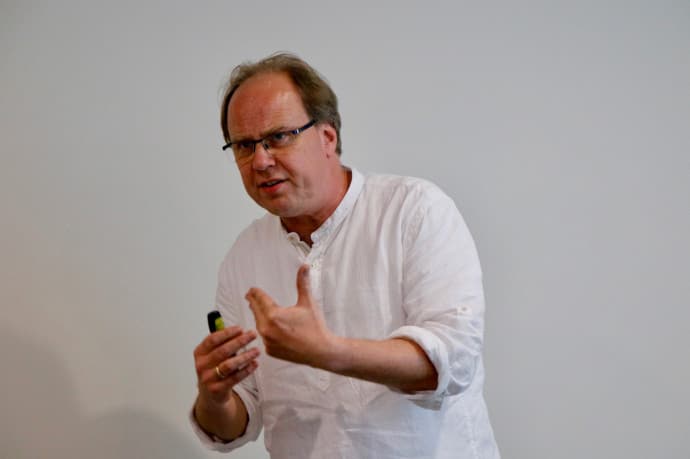 STIAS fellow Andreas Freytag during his seminar presentation on 7 March 2019
"This dreadful mix enabled populists from the left and the right to gain influence," he added. "In the US, President Trump joined Russian President Putin in the 'zero-sum-gains' camp, offering nationalist policy choices and initiating unproductive trade wars with China as well as with US allies. In Great Britain, Brexit, based on a fraudulent campaign, led to a paralysed government and, almost three years after the referendum, has still not been concluded. In other European countries, governments are increasing doubting the benefits of integration."
"Since 2009 there have been more harmful measures like increased tariffs and barriers to trade. It's a slippery slope."
"The current trade wars are mostly framed as Trump versus the rest of the world but they are also strongly influenced by other negative trends including the moving target that is Brexit, Chinese interventions in economic policy and neo colonialism (they are not giving money to Africa for free); the long-standing crisis of the WTO; and, the demise of multinationalism."
Freytag described the differences in trade policies between the twentieth and twenty first centuries.
"The twentieth century was characterised by embedded liberalism which dominated government structures," he said. "There was a sense of the need to do more which resulted in protectionism."
"But this tended to hurt the poorest and led to an increasing North/South divide with trade policies developed in the North directed to the South."
"In the twenty-first century there is not much liberalism left. There are also new divisions and new influencers for policy makers. Non-governmental organisations (NGOs) are more influential. The business sector is not as powerful and often countered by the claims of NGOs."
"There are also new actors like social media – a mechanism with increasing influence often used to create 'alternative facts'."
"Scientific advisers no longer have the same influence," added Freytag. "There is a demeaning of scientific advice and a general distrust in expertise."
"Public discussion has become more fundamental with moralistic overtones and, often, a lack of facts. Debates have become more personalised, positioning people in particular moral streams."
"This has all led to an increasing populist threat – we against them – where identities increasingly matter."
However, he did point to some positive trends including the fact that Trump has succeeded in putting world trade back on the agenda especially amongst NGOs and has raised global interest in and awareness of trade issues, WTO reforms and the need to reform the trading order; the commitment of many leaders at Davos 2019 to multinationalism and a reduction in trade barriers; European attempts at further integration; and, the establishment of the African Continental Free Trade Area which includes 52 countries which he described as "an encouraging idea, aimed at dismantling trade barriers on the continent although the details haven't been worked out and the Agreement is still not ratified".
"Trump's rhetoric, although still powerful, is calming down and other countries seem less likely to believe that the president is willing to cut enforceable deals."
No-deal Brexit a no go
Turning to Brexit, Freytag painted a picture of the long-standing tumultuous European/UK relationship. "The relationship has never been easy," he said. "Britain's first attempt to join the EU was rejected by France. In the first referendum in 1975, 60% of the population were 'remainers'. At that stage the main stumbling block was the EU's agriculture policies."
"Those in favour of Brexit strongly push the argument of independence from the Brussels' bureaucracy but this argument is overused. Many directives credited to Brussels don't actually originate in Brussels. The campaign was built to some extent on lies."
"The British government is simply not prepared for Brexit," he added. "There is a lack of expertise because, ironically, much of that expertise lies in Brussels. There are only a handful of negotiated deals thus far and the negotiations have been pretty amateurish."
"But," he added, "A no-deal Brexit would be a huge problem."
In discussion he agreed that it still isn't clear if another referendum would result in a landslide for the 'remainers' and that Brexit also represented the failure of the left in British politics to make an impact.
Need for trade – preferably genuinely free and fair
But what are the consequences of all of this?
Freytag pointed out that decreasing trade may be accompanied by the demise of democracy.
"If world trade decreases, the poorest of the poor are the worst hit."
"We have to arrange trade in a way that is fair. Technical and institutional changes are the causes of the current disruptions and declining trade is exacerbating the situation. We need good economic policies and social order to deal with the disruptions."
"I believe trade should be managed by the WTO and that problems should be solved on a multinational level by known instruments and agencies," he said.
"We need more international regulations for trade, and for the major global issues like climate change and intellectual property."
"But, at the same time, we must recognise that countries are not on the same level and trade has not always been equal or fair even for countries on the same level," he added. "We must understand that successful development policies can only be driven from within countries – it's a bottom-up movement. And governments must be willing to protect their populations against international regulations and multinationals."
He also acknowledged the urgent need for alternative narratives and broadening the perspective beyond Western ideas.
"New forms of negotiation are needed especially for dispute resolution. Is there an opportunity – maybe even an obligation – for African and other developing country leaders to initiative new talks?"
Freytag's project while at STIAS will look at the European Union model to analyse if it holds any lessons on integration for Africa.
Michelle Galloway: Part-time media officer at STIAS
Photograph: Christoff Pauw