"Our project is built on the widespread perception that the way knowledge is produced, managed, applied and disseminated on a global scale today is damaging to the environment and to social relations," said John Noyes of the Department of Germanic Languages and Literatures at the University of Toronto. "In particular, the commodification of knowledge in the market economy appears to be undermining any movements toward planetary social justice, threatening to affect the well-being of the vast majority of humans in the near future."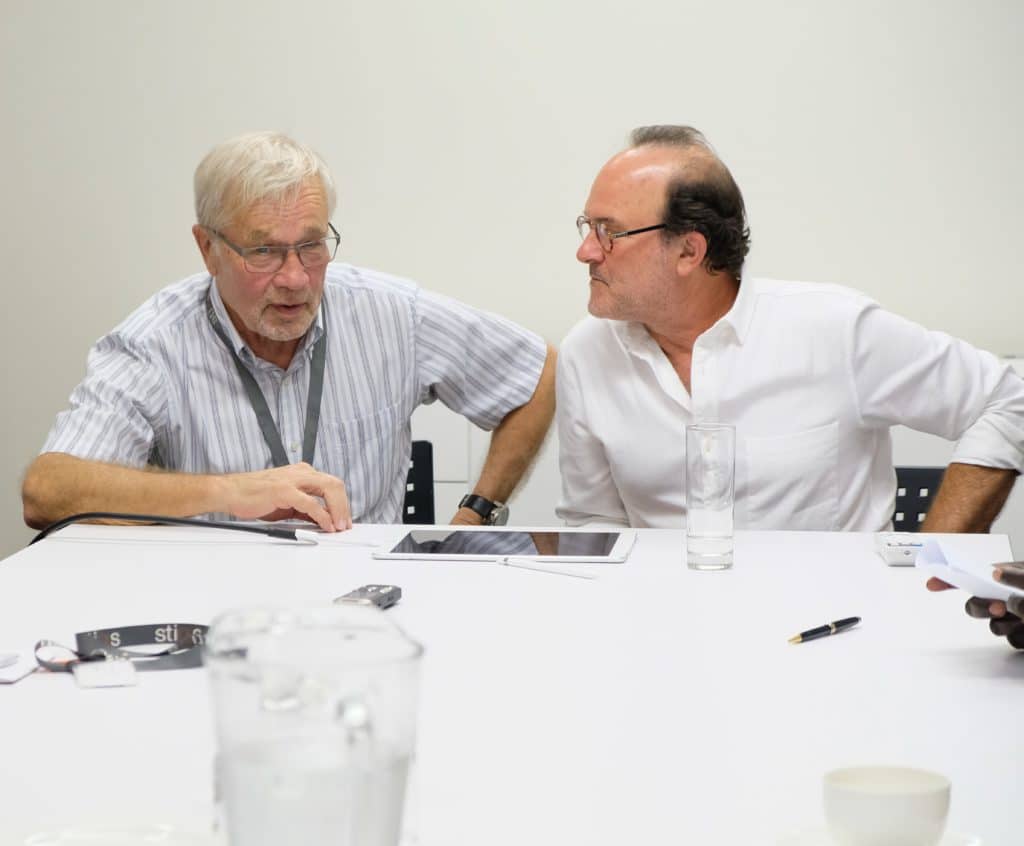 Along with Bo Stråth of the Centre of Nordic Studies at the Department of World Cultures at the University of Helsinki, Noyes presented the background to and aims of their project which was conceived at STIAS.
"We met in 2017 as STIAS fellows and realised we had a common interest which led to this project. Initially we wanted to rule the world – that didn't quite work out – so we set our sights a bit lower and decided to merely change the way knowledge is configured," he joked.
They explained that their overall observation was that of the discrepancy between monetised knowledge systems, the financialisation of knowledge, on the one hand, and more humanised knowledge, on the other.
"Our basic argument is that there is a tension between monetised knowledge systems and human knowledge and between economic knowledge and fundamental human knowledge," said Stråth. "Economic knowledge treats humans as a commodity – a cost factor – not really as humans."
Noyes pointed to the massive changes in data flows – a seven-fold increase from 2008 to 2013 alone.
"There has been a massive growth in knowledge-intensive goods and the globalisation of knowledge," he said. "But there is a need to find other ways of talking about knowledge."
"What about human knowledge systems?" he asked.
"Our starting point is that the way knowledge is produced and disseminated on a global scale is – at risk of over-dramatising – threatening civilisation as we know it," he said.
They pointed out that the university system is very much part of the monetised knowledge system. The players stretch from university research and teaching staff; the administration; the students – "increasingly known as clients and consumers"; the state; the technology industry; and, the "elusive field" of the public. Knowledge production, management and dissemination is done on the basis of tax money, research grants, partnerships, patents, salaries and stipends.
Noyes pointed to something he has experienced in Canada and that is an increasing reliance on sustaining university revenue not by increasing state grants or research funding but by increasing fees. "I suspect it's a worldwide trend," he said.  "This adds to changing the way we understand knowledge."
"The social, ecological and human perspective has been subordinated to the economic framework," added Stråth. "There must be more horizontal entanglement in these dimensions. A new framework which encompasses a planetary perspective that transcends demarcations and enmities."
He explained that knowledge conceived this way is basically an economic system driven by market forces and self-interest, and there is a need to put the humanities – ethics, philosophy and anthropology into the system.
He also pointed to the massive inequalities in the system because individuals don't start from the same place with differences in income, property, education and health, and other factors.
"Instead of the system we have now where capital uses humans for generational profits on global markets, we argue for humans using capital to create sustainable, peaceful, global societies," he continued.
Noyes and Stråth highlighted some of the theoretical frameworks for these ideas including some of the Enlightenment thinkers, Kant, Hobbes and Marx, Foucault, Derrida and Jean-François Lyotard.
"It's important that we understand the historical reach of the critical discussions around knowledge today," explained Noyes. "We are interested in both the theoretical and the practical."
They also unpacked some of the responses to the neo-liberal knowledge economy.
"In post-modern societies – scientific knowledge has escaped the binding of meta-narrative structures," said Stråth. "Knowledge gained the upper hand and became a matter of functionalisation and commercialisation. What can be known only has value to the extent that it increases economic productivity."
"We are interested in attempts to imagine alternative models for global or planetary knowledge exchange that would bypass the global knowledge economy driven by the market," he continued.
"The premise being that if knowledge systems do harm then the theoretical and practical responses have to be developed by the people who feel the harm in the places that they feel harm using whatever language, concepts and strategies are available," continued Noyes.
They pointed out that there are alternative models and that a lot of work is already going on in this area but ways have to be found to bring this work together and to get people to talk to each other. They also emphasised that there is a need to work alongside other structures.
"If it is going to be possible to develop alternative knowledge channels they are going to have to be outside, alongside and interwoven with existing institutional structures," explained Noyes. "We are not going to reform or do away with the university. The university is not about to reform from within, and there are no pressures to reform it from without. But maybe there is a way to relate to it in alternative structures."
They concluded by presenting some thoughts on how alternative channels for humanist knowledge developed in new global/planetary directions might be pursued.
"We are calling this system of alternative channels an academy of global humanities, a virtual, inclusive intellectual community of human scientists – a global ecumene of humanists," said Stråth.
This would be a virtual academy bringing together global teams to work together on different thematic areas. They emphasised, however, that this is definitely not an attempt to reproduce existing structures. "This would have a narrow, focused agenda and the ability to respond to requests for urgent answers to urgent questions," said Stråth.
It would also be about building the capacity of the next generation of researchers to think in new ways.
Some of the potential aims would be to decentre knowledge geographically and institutionally; explore alternatives to the Western hegemony of knowledge; develop alternative funding, dissemination, communication and collaboration models; explore the nature of humanities research as it is conducted in the non-humanities disciplines; understand how to look at students not just as consumers but also knowledge producers; and, how information and knowledge from academic institutions might be disseminated differently to the public.
"There are vibrant debates going on," said Noyes, "touching on many of these aspects. We are hoping that by linking up people virtually we will uncover common ground from common experiences. It would be about testing this ground – finding out if there are ways to tap into those conversations."
"Nothing is excluded. It's about developing an ethos not a structure. This would just be the kick off," added Stråth. "We hope something will come out of it."
"Today's multi-layered crises highlight the inadequacy of a globalisation model based on narratives of market-fundamentalism. Instead of conjuring up imaginaries of global cohesion imposed by the fiction of an abstract market, there is a need for a language that contributes to global communications about human differences and similarities," said Stråth. "This calls for global narratives based on global humanities and insights of the possibilities and responsibilities of human agency. We argue that a broad global approach in humanities should prepare the ground for a new understanding of life on earth, in particular living together, under mutual recognition and responsibility."
Michelle Galloway: Part-time media officer at STIAS
Photograph: Noloyiso Mtembu