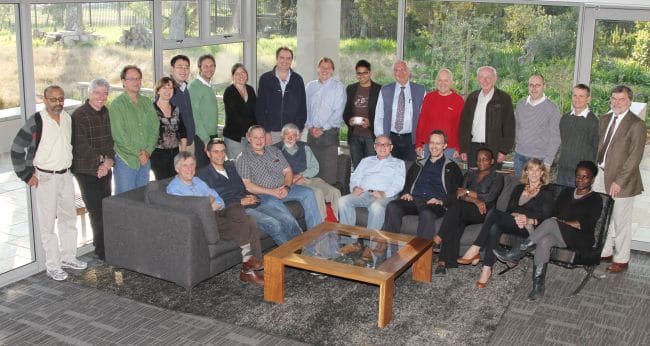 In early August the STIAS Fellows' Programme reached an important milestone: a full complement of STIAS Fellows was resident at the Wallenberg Research Centre for the first time since the November 2007 inauguration of STIAS' main research facility.
During this period two group projects were hosted at STIAS:
Genres of Critique, with project leaders Karin van Marle (Pretoria Univ) and Stewart Motha (Kent Univ), and Fellows Mark Antaki (McGill), Denise Ferreira-Da Silva (UC, San Diego), George Pavlich (Alberta), Patricia Tuitt (Birkbeck College), Jagath Weerasinghe (Institute of Archaeology, Colombo); Resolving Inconsistencies in the Foundation of Population Ecology, with project leader Wayne Getz (Berkeley) and Fellows Lev Ginzburg (SUNY at Stony Brook), Eloy Revilla (CSIC, Sevilla) and Norman Owen-Smith (WITS).
(Details about these and other projects appear at https://stias.ac.za/ideas/projects/)
Other Fellows and STIAS project leaders resident at the Walleberg Research Centre in August are Jean Comaroff (Chicago), John Comaroff (Chicago), Hans Lindahl (Tilburg), Robert Mattes (UCT), Mark Solms (UCT), Achille Mbembe (WITS), Sarah Nuttall (WITS), Ursula van Beek (SU) and Peter Vale (Rhodes). STIAS Fellows arriving in September include Aubrey Matshiqi (independent analyst), Tito Mboweni (former Governer of the SA Reserve Bank), Wentzel van Huyssteen (Princeton), Dirk Berg-Schlosser (Marburg), Ursula Hoffmann-Lange (Bamberg) and Laurence Whitehead (Oxford). The latter three Fellows will join Ursula van Beek for the final phase of the project The global financial crisis and its consequences for democracy.
According to STIAS Director, Hendrik Geyer, a number of initiatives have been taken to ensure that over the next few years STIAS will be able continue with its programme at comparable levels of residency.