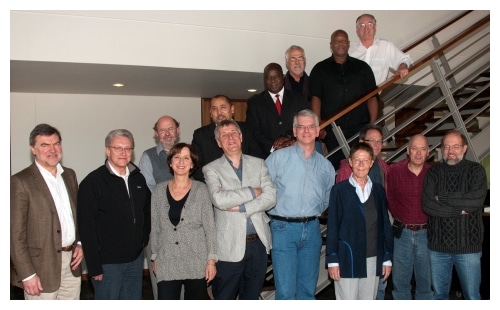 Projects in Political Science and related fields formed a strong focus at STIAS during August and September 2010 — quite aptly so, as the biennial conference of the South African Association of Political Studies (SAAPS) was hosted at the STIAS Wallenberg Research Centre from 1-4 September 2010.
Prof Ursula van Beek (Stellenbosch Univ) was joined by a number of international and local researchers working on the STIAS project The global financial crisis and its consequences for democracy. Among the participants were Profs Laurence Whitehead (Oxford), Dirk Berg-Schlosser (Marburg), Christer Jönsson (Lund) and Ursula Hoffmann-Lange (Bamberg), as well as local academics Profs Stan du Plessis, Pierre du Toit, Philip Mohr and Bernard Lategan.
Prof Bob Mattes (UCT) has been working on a book publication dealing with Institutions, Conflict, and Democratic Governance in the New South Africa, while Prof Peter Vale (Rhodes) worked on a project dealing with the Academy of Science of South Africa's commissioned consensus study on the State of Humanities in South Africa. Mr Aubrey Matshiqi, political analyst and commentator worked on the Politics of memory in post-apartheid South Africa, and Ryland Fisher on a book Undoing Racism, while Prof Hans Lindahl (Tilburg) had been authoring a monograph entitled A Politics of A-Legality.
During this period Mr Tito Mboweni, former Governor of the SA Reserve Bank could offer some interesting perspectives to Prof Van Beek's group, while also working on his memoirs, reflecting on 15 years in public service.
The SAAPS meeting also provided an ideal opportunity for the local launch of Democracy Under Scrutiny: Elites, Citizens, Cultures, a comparative study of democratization in South Africa, Turkey, Chile, Germany, Sweden, Poland and South Korea. It is edited by Prof Van Beek and had recently been published by Barbara Büdrich Publishers. The book is based on an earlier STIAS supported project, The Quality of Young Democracies, also lead by Prof Van Beek.
In an extensive review in the journal European Political Science Philippe Schmitter starts on a skeptical note, asking "But is such a major effort worth it?"and stating "… even more significant is the fact that the entire effort … was conceived and guided by a team emanating from the recent periphery of democracy, i.e., from Stellenbosch University in South Africa."
In the end it is clear that Schmitter had indeed been convinced: "Van Beek and her associates have produced a major, even a seminal, volume. Its initial assumptions may be firmly anchored in the mainstream of the discipline of political science, but their less than orthodox treatment of an especially rich comparative dataset demonstrates a collective willingness to move beyond these confines and to question these assumptions. No one interested in democratization, including a sceptic like myself, can afford not to come to terms with both its method and its findings" — high praise indeed!
Caption: After a STIAS seminar — left to right (bottom): Hendrik Geyer, Wentzel van Huyssteen (Princeton), Ursula van Beek, Philippe van Haute (Radboud Univ, Nijmegen), Bob Mattes, Ursula Hoffmann-Lange, Hans Lindahl, Jannie Hofmeyr and Paul Cilliers. On the stairs (top to bottom): Laurence Whitehead, Aubrey Matshiqi, Peter Vale, Tito Mboweni, Ryland Fisher and Dirkie Smit (SU).