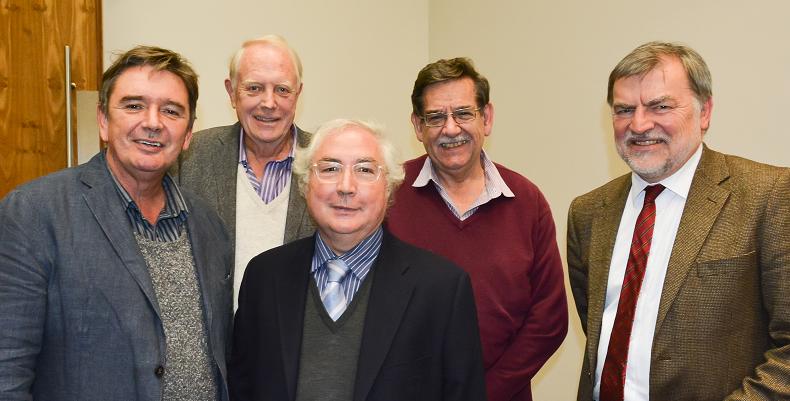 After the public lecture: Manuel Castells (in the middle), with (from left) Nico Cloete (Director: CHET), Paul Cluver (Wine producer and former Chair: SU Council), Johann Mouton (Director: CREST and DST-NRF Centre of Excellence in Scientometrics and STI Policy) and Hendrik Geyer (Director: STIAS).
Manuel Castells recently presented a public lecture on his forthcoming book titled Reconceptualising Development in the Global Information Age, to be published by Oxford University Press in August 2014.
The lecture took place on Thursday 5 June at the STIAS Wallenberg Research Centre. The book is informed by a project which brought together an international network of distinguished academic researchers engaged in an empirically grounded reflection of the transformation of the values that redefine development. The study covers case studies of Europe, California, Latin America, China and South Africa.
Manuel Castells is a Professor of Sociology and Director of the Internet Interdisciplinary Institute at the Open University of Catalonia (UOC) in Barcelona. In addition, he is a University Professor and the Wallis Annenberg Chair Professor of Communication Technology and Society at the Annenberg School of Communication, University of Southern California, Los Angeles. He is also Professor Emeritus of Sociology, and Professor Emeritus of City and Regional Planning at the University of California, Berkeley, where he taught for 24 years.  Castells is a permanent visiting fellow of STIAS where he was resident during May/June 2014.
His achievements include: several international awards (see e.g.  STIAS fellow Manuel Castells wins Balzan prize and STIAS visiting fellow Manuel Castells awarded the 2012 Holberg international memorial prize), chairmanship and directorship of various international institutions and bodies and  has been awarded 15 Honorary Doctorates. He is the author of 26 books and co-author and editor of a further 22 books.
Author: Melinda Rust
Photographer: Anton Jordaan