Five candidates out of over 250 who applied for the Iso Lomso fellowship programme, which was announced in February 2016, have been selected to receive this prestigious award. John Ganle, Malebogo Ngoepe, Uchenna Okeja, Tolu Oni and Aretha Phiri will form the inaugural cohort of Iso Lomso fellows.
In view of a next cohort of Iso Lomso fellows two shortlisted candidates, Patrick Cobbinah and Eunice Githae, have been invited to take up residencies at STIAS during 2017 in order to further develop and refine their proposals for reconsideration.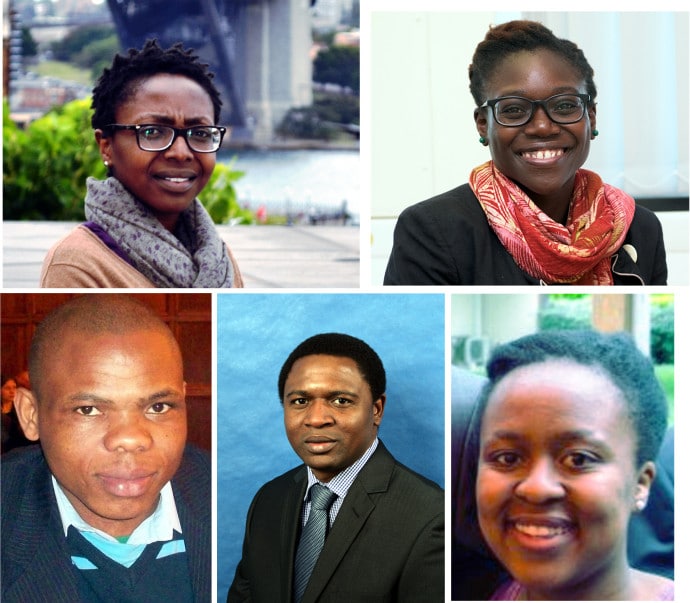 STIAS Iso Lomso Fellows clockwise from top: Aretha Phiri, Tolu Oni, Malebogo Ngoepe, Uchenna Okeja, and John Ganle
Iso Lomso, meaning "the Eye of Tomorrow" in isiXhosa, is a new STIAS fellowship and early career support programme that will boost the careers of some of the brightest minds in African academia. The programme was inspired by the Pro Futura Scientia programme  developed by the Swedish Collegium for Advanced Study and is currently funded through a STIAS grant from the Swedish Riksbankens Jubileumsfond.
In addition to spending up to three periods of residency at the STIAS Wallenberg Research Centre in Stellenbosch between 2017 and 2019 to pursue their research projects, Iso Lomso fellows may also receive funding to attend international conferences, convene workshops, and visit sister institutes for advanced study in North America, Europe or elsewhere.
The candidates represent a broad range of disciplines. John Ganle is a specialist in reproductive health at the University of Ghana's School of Public Health. His project will deal with disability and reproduction in Africa and aims to investigate the sexual, reproductive and maternal healthcare needs and challenges of women with disability in Ghana. John received his Ph.D. from the University of Oxford in 2014.
Tolu Oni from Nigeria is a Public Health physician and clinical epidemiologist, based at the University of Cape Town's School of Public Health and Family Medicine. While working towards her research doctorate from Imperial College London, completed in 2012, she developed an interest in urban health. Her proposed project will seek to investigate strategies for healthy housing policies that can contribute to addressing the high burden of infectious and non-communicable diseases.
South African Malebogo Ngoepe is based at the University of Cape Town and completed her Ph.D. in biofluid mechanics at the University of Oxford in 2014. Her project will seek to develop a thrombosis model which can be applied in both cerebral aneurysms and abdominal aortic aneurysms. Malebogo intends to partner with collaborators at the KTH Royal Institute of Technology in Sweden.
Uchenna Okeja is from Nigeria and currently based in South Africa, at Rhodes University's Department of Philosophy. Uchenna received his Ph.D. from Goethe University Frankfurt in 2011. His project in African political philosophy will aim to make political ideas and values of traditional Africa relevant for modern times, focusing on two conceptual metaphors for the public sphere, namely, palaver and consensus.
Aretha Phiri is a lecturer in the English Department at Rhodes University and received her Ph.D. in English literature from the University of Edinburgh in 2014. Originally from Zimbabwe, Aretha's proposed project will consider the literary works of African authors Zoë Wicomb, NoViolet Bulawayo, Chimamanda Ngozi Adichie and Taiye Selasi in response to African-American author Toni Morrison's concerns around blackness. In a particularly feminist reading, the aim of her project is to reflect more nuanced and sophisticated versions of African subjectivity, as well as more inclusive and expansive global visions of blackness.
Additional young fellows selected
The two additional candidates selected for residencies in 2017 are based in Kenya and Ghana, respectively. Eunice Githae completed her Ph.D. in dryland ecology at the University of Nairobi in 2011 and is a lecturer in biology at Chuka University. Her proposed project is on the social and ecological impact of the invasive Prickly Pear species Opuntia stricta in Kenya. During her planned residency she will work with colleagues at the South African DST-NRF Centre of Excellence for Invasion Biology at Stellenbosch University, among others.
Patrick Cobbinah is a researcher in urban planning at Kwame Nkrumah University of Science and Technology, having received a Ph.D. from Charles Sturt University in Australia in 2014 in the field of human geography. His proposed project will seek to locate the emergence of 3D-printing of houses within the complex of urbanization in Africa, climate change and resource management. During his residency he will engage with colleagues at the African Centre for Cities at the University of Cape Town and the Centre for Complex Systems in Transition at Stellenbosch University.
With these awards STIAS aims to fill the gap that often exists for African academics between completion of a Ph.D. and becoming an established scholar. While in residence, Iso Lomso fellows will find themselves in the company of leading researchers from around the world and from different disciplines. Informal research guidance and networking with other fellows form an integral part of life at STIAS.
Director Hendrik Geyer reiterated this, saying "STIAS recognises that for many younger academics the pressures of teaching, administration and contracted work mean they receive little encouragement and incentive to develop their research strengths. In line with the vision of Iso Lomso, STIAS's goal is to provide sustained research support to these young academics, thereby contributing to a future generation of scholars and scientists."
Photographs supplied by candidates