STIAS is pleased to announce its sixth cohort of Iso Lomso fellows and visiting scholars for applications submitted during its last call.
The STIAS Research and Fellowship Programme Committee recently concluded its selection of the Iso Lomso cohort of fellows for 2022. From its largest pool of applicants since the programme's inception, seven candidates were offered the prestigious three-year fellowship at the Stellenbosch Institute for Advanced Study and will be attached to the institute from 2022 to 2025. A further three candidates were invited as Iso Lomso Visiting Scholars for a single residency during 2022 or 2023 at STIAS to further pursue their proposed projects.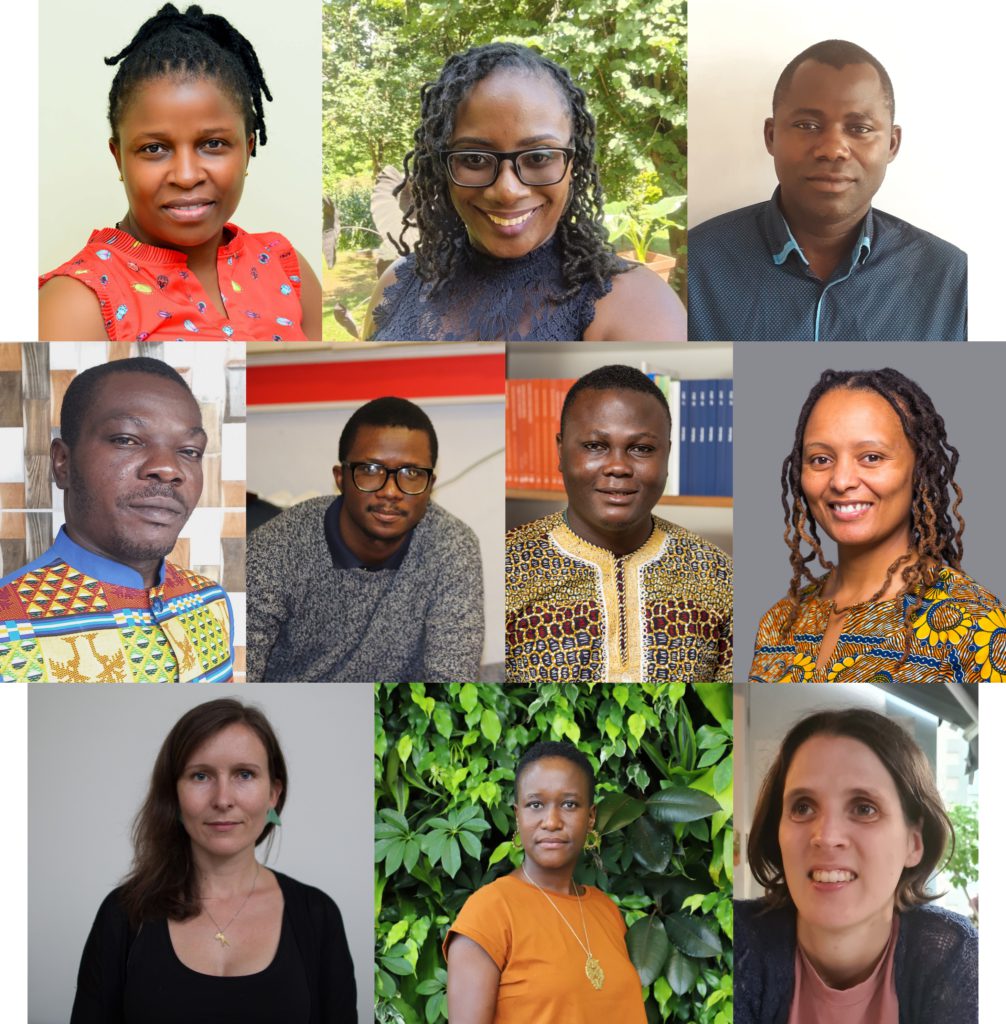 The fellows and visitings scholars are listed, with their project titles, in the order that they appear above from left to right and top to bottom. Project abstracts may be found via the links on the right.
Iso Lomso Fellows:
Jerrold Agbankpe, based at the Polytechnic School of Abomey-Calavi, University of Abomey-Calavi, Benin

Potential severity of antimicrobial resistance in context of COVID-19 pandemic and phage-assisted bio-control: one health approach in Benin and Pakistan.

Asanda Benya, based at the Department of Sociology, University of Cape Town, South Africa

Women in mining frontiers in Africa: Exploring the diverse ways in which women's lived experiences and livelihoods around sites of extraction are affected by mines.

Philippe Djorwé, based at the Department of Physics, University of Ngaoundéré, Cameroon

Quantum and collective phenomena induced by PT-symmetry in opto-electromechanical array

Achille Melingui, based at the Department of Electrical and Telecommunication Engineering at the National Advanced School of Engineering, University of Yaoundé 1, Cameroon

Assistance to Visual Impairing People using Deep Learning and Type-2 Fuzzy Logic

Asante Mtenje, based at the Department of English, University of Malawi

The politics of dress, gender and sexuality in Malawian popular art

Victoria Namuggala, based at the School of Women and Gender Studies, Makerere University, Uganda

Identity and Belonging: Teenage Parenthood in Kampala's Informal Settlements

Paul Onanuga, based at the Department of English and Literary Studies, Federal University Oye-Ekiti, Nigeria

Artiste Rivalry, Digital Fandom and the Narratives of Oppositional Politics in Nigerian Hip-Hop
Iso Lomso Visiting Scholars:
Uhuru Phalafala, based at the English Department, Stellenbosch University, South Africa
Cara Stacey, based at the School of Music, North-West University, South Africa

Water, drought and song in the Kingdom of eSwatini

Carina Venter, based at the Department of Music, Stellenbosch University, South Africa

Playing at/against power: Histories of Trauma and Abuse in South African Music-Pedagogical Spaces
Iso Lomso fellows and visiting scholars have become a key differentiator of the overall STIAS Fellowship programme. The programme is firmly established as a fellowship category that STIAS will continue to support and grow.